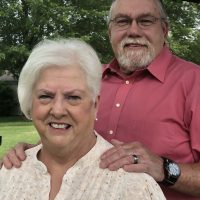 Mr. and Mrs. Ronnie Ford will be married 50 years on June 7, 2019.
Ronnie and Esther were married on June 7, 1969 at the Oak Grove Cumberland Presbyterian Church with Bro. Willard Basham officiating.  Their attendants were Lenna Fulton, Vanessa Knott and Suzanne Gipson along with the late Gary Ford, Harold Ford and Bruce Usrey.
Ronnie is retired from self –employment and is the son of the late Mildred Copeland and late Grover Ford and Ann Ford of Benton.  He is the grandson of the late Euclid and Lora Lyles, and the late Ell and Alice Ford.
Esther is retired from the Marshall County Board of Education and is the daughter of the late J.D. Usrey and Anna Usrey of Benton.  She is the granddaughter of the late Clay and Treva Jones and the late Harl and Opal Usrey.
They are the parents of Crystal Williams and husband John of Benton, and Heather Rodriguez of Schertz, TX.  They have two grandsons, Quintin and Cooper Rodriguez also of Schertz, TX.  They have one grand God son, Jordan Thompson of San Antonio, TX.
Everyone is invited to celebrate with Ronnie and Esther from 3:30-5:30 p.m. on Saturday June 15th at the Pleasant Grove United Methodist Church fellowship Hall on Mayfield Hwy.
The couple request no gifts.  Your presence is your gift.