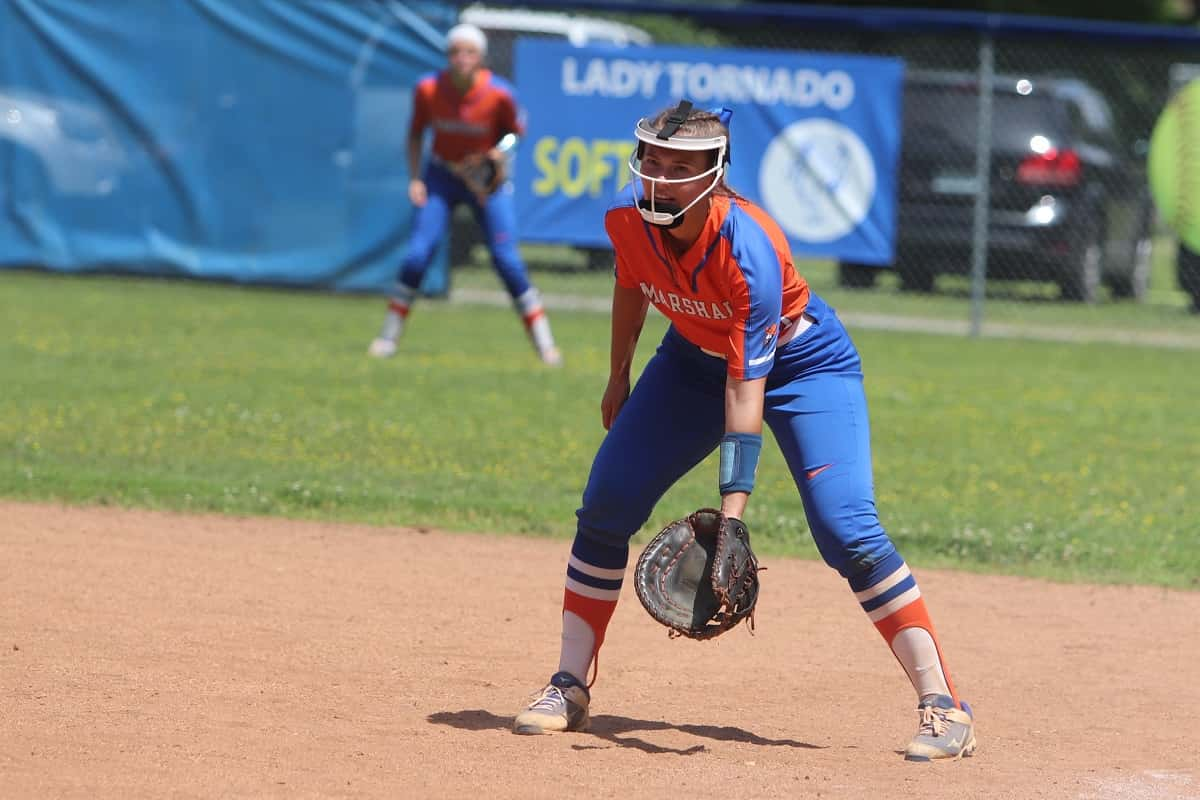 The fourth inning at the First Region semi-final softball game between Marshall County and Paducah Tilghman was one to remember, after the Lady Marshals led 2-0 going into the inning. Tilghman put up seven runs in the top of the inning, only to be topped by a 12-run bottom of the inning by the Lady Marshals who went on to win 17-7 in five innings to advance to the title game against Graves County.
Graves County stunned McCracken County in the first semi-final on Tuesday, winning 10-0 to advance to the First Region Championship. The Lady Marshals hope to defend their 2018 regional title when they meet the Lady Eagles  on Wednesday at 6:00 at Sheppard's Field in Paducah.
Marshall County's 2-0 lead after three innings was wiped out on a big seven-run top of the fourth for Tilghman that started with a single by Katie Woodruff, double by Rosie Minter and Keiler Belt hit by a pitch to load the bases. A run scored when Hannah Scott was hit by a pitch, Bailey Clark reaches on an error that brought in two runs, followed by a two-run triple by Cristin Ware, RBI from Emma Massey and Woodruff single to put the Lady Tornados up 7-2.
The Lady Marshals went to work in the bottom of the inning, starting with a double by Charley Pursley and single by Mckenzie Elkins that brought Pursley in for a run – the start to their 12-run inning. Addie Young and Layne Pea singles preceded an RBI single by Presley Jezik, two-run single from Cayson Conner, RBI singles by Sarenna Tomassi and Pursley, three-run triple from Young, RBI single by Jezik and an RBI sacrifice bunt by Conner to amass a 14-7 lead.
The bottom of the fifth for the Lady Marshals began on back to back triples by Murt and Riley Piercefield and single by Pursley for a 16-7 lead with the game-winning run coming off a single by Young for the 17-7 win.
Young led the Lady Marshal batters with a single, double, triple and four RBI's. Murt picked up the win in one and two-thirds innings on the mound, allowing three hits, two runs and striking out three.
Tilghman 000   7  0  x   x   7  6  2
Marshall   002 12 3 x   x  17 18 1
HITTING
Tilghman: Massey (RBI), Pugh 1/3 (2B), Woodruff 3/3 (RBI), Minter 1/3 (2B), Scott (RBI), Clark (2 RBIs), Ware 1/2 (3B, 2 RBIs)
Marshall: Jezik 2/3 (2 RBIs), Conner 1/2 (3 RBIs), Tomassi 1/3 (2 RBIs), Murt 3/4 (3B), Piercefield 1/4 (3B, RBI), Pursley 3/3 (2B, 2 RBIs), Elkins 1/3 (RBI), Young 4/4 (2B, 3B, 4 RBIs), Pea 2/2
PITCHING
Tilghman: Pugh 4.1 (12 hits, 11 runs), Scott 0.0 ( 6 hits, 6 runs)
Marshall: Lovett 3.1 (3 hits, 5 runs), Murt 1.2 (3 hits, 2 runs)