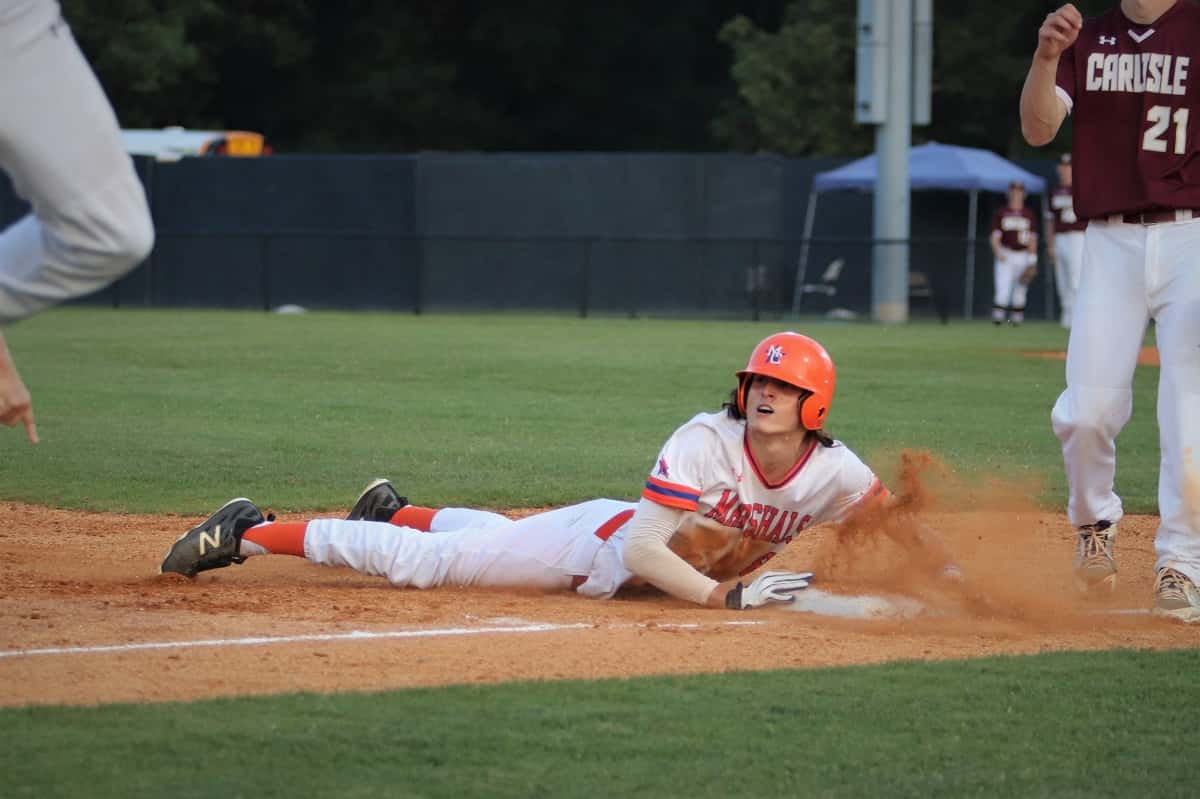 Marshall County took care of business against Carlisle County Saturday in an 11-1 win to advance to Monday's 5:00 pm semi-final against Paducah Tilghman, a 12-9 winner over Graves County. McCracken County defeated Calloway County 11-1 and Hickman County took care of Mayfield 7-5 to play in Monday's second semi-final. The winners will advance to the championship game on Tuesday at 6:00 at Brooks Stadium in Paducah.
Ty Buchmeier's single to lead off the bottom of the first inning produced some excitement. Buchmeier rounded first and headed on to second base on an error. His run around the bases continued on a second Carlisle County error that brought him to home plate for the Marshals first run of the game.
Walks by Cole Griggs and Brady Ives loaded the bases which brought up C.J. Johnson who drew a walk off of pitcher Daven McGee to send the base runners around for a 2-0 lead. Isaiah Neeble finished the inning out with a two-run single that scored Griggs and Ives for a 4-0 lead.
Carlisle County's lone run came in the top of the second inning on a single by Ian Fry. The Marshals followed the run  with two of their own in the bottom of the inning on a double by Tyler Belcher and an error – the fifth of the game for the Comets – to lead 6-1.
Gage Griggs and Cole Griggs led off the bottom of the five-run fourth inning with singles. Belcher drove in Gage Griggs and Jordan Riley busted a triple that brought in Cole Griggs and Jacob Landis, courtesy runner for Belcher. Ives' single brought in Riley and Austin Stockdale drove in Ives for the 11-1 win.
Griffen Ives earned the win in four innings on the mound, surrendering one run while allowing six hits and striking out three.
Carlisle County, runner-up to Hickman County in the 1st District Tournament, finishes the season 23-13.
Carlisle    0 1 0  0 0 x  x   1  6  5
Marshall 4 2 0  5 x x   x  11 10 3
HITTING
Carlisle: Fry 1/3 (RBI), McGee 1/3, Davis 1/3, Elder 1/2, Jackson Bruer 1/2, Jacob Bruer 1/1
Marshall: Buchmeier 1/4 (2B), G. Griggs 2/2, C. Griggs 1/2, Belcher 2/3 (2B, RBI), Riley 1/3 (3B, 2 RBI), Ives 1/2 (RBI), Johnson (RBI), Neeble 1/2 (2 RBI), Stockdale 1/3
PITCHING
Carlisle: McGee 2.0 (4 hits, 6 runs), Hayden 1.2 (6 hits, 5 runs), Fry 01. (0 hits, 0 runs)
Marshall: Ives 4.0 (6 hits, 1 run) Harper 1.0 (0 hits, 0 runs)