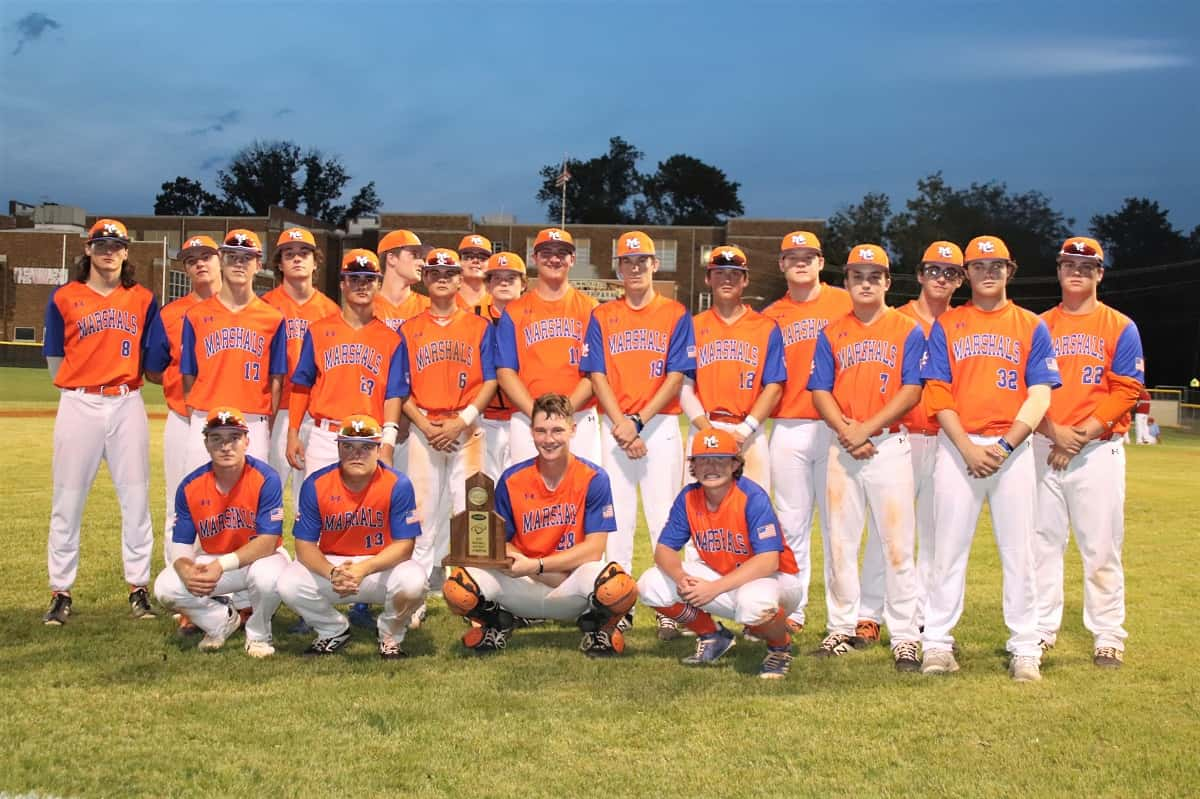 With a bye into the 4th District Championship, Marshall County met Calloway County Tuesday, the Lakers advancing to the title game with a 6-2 win over Murray. Two regular season wins for the Marshals over the Lakers by scores of 11-2 and 15-0, did not play out the same way on Tuesday in Murray after the Marshals wiped out an early 1-0 lead by the Lakers to go on and take the district title 5-2.
Calloway County's 1-0 lead came in the top of the first, when Stephen Anderson scored on an error. Things got rolling for the Marshals in the bottom of the third with two base runners on – Tyler Belcher on a walk and Brady Ives hit by a pitch. A double by C.J. Johnson tied the game, a sacrifice by Isaiah Neeble scored the second run and an RBI single by Ty Buchmeier put the Marshals up 3-1.
Two more runs scored in the bottom of the sixth after the Marshals loaded the bases on a walk by Neeble, double from Austin Stockdale and Buchmeier hit by a pitch. Gage Griggs earned an RBI on a ground ball and Stockdale scored on an error to stretch the lead to 5-1.
Singles by Anderson and Starks and a walk by Issac Ward loaded the bases for the Lakers with one out in the top of the seventh inning. A fielder's choice out at third by Ives gave the Marshals their second out while Anderson scored to make it a 5-2 game. The final out of the game at second base by Cole Griggs gave the Marshals their second straight district title.
Riley Harris threw a complete game, striking out seven, allowing six hits and one earned run. Calloway County utilized three pitchers, Cadwell Turner taking the loss in his two and a third innings, allowing two hits and three runs.
Both teams advance to the Region 1 Tournament that gets underway Saturday at Brooks Stadium in Paducah. Marshall County will meet Carlisle County in the 6:30 pm game. Graves County will play Tilghman at 11 am, McCracken County and Calloway County at 1:30 pm and Hickman County will meet Mayfield at 4:00 pm.
Calloway 0 0 1  0 0 0  1  2 6 3
Marshall  0 0 0  3 0 2  x  5 4 3
HITTING
Calloway: Starks 1/4, Ward 2/2, White (RBI), Turner 1/3, Boyd 1/3, Anderson 1/3
Marshall: Buchmeier 1/3 (RBI), G. Griggs (RBI), C. Griggs 1/4 (2B), Johnson 1/3 (2B, RBI), Neeble (RBI), Stockdale 1/2 (2B)
PITCHING
Calloway: Stalls 3.0 (1 hit, 1 run), Turner 2.1 (2 hits, 3 runs), Boyd 0.1 (1 hit, 1 run)
Marshall: Harris 7.0 (6 hits, 2 runs)