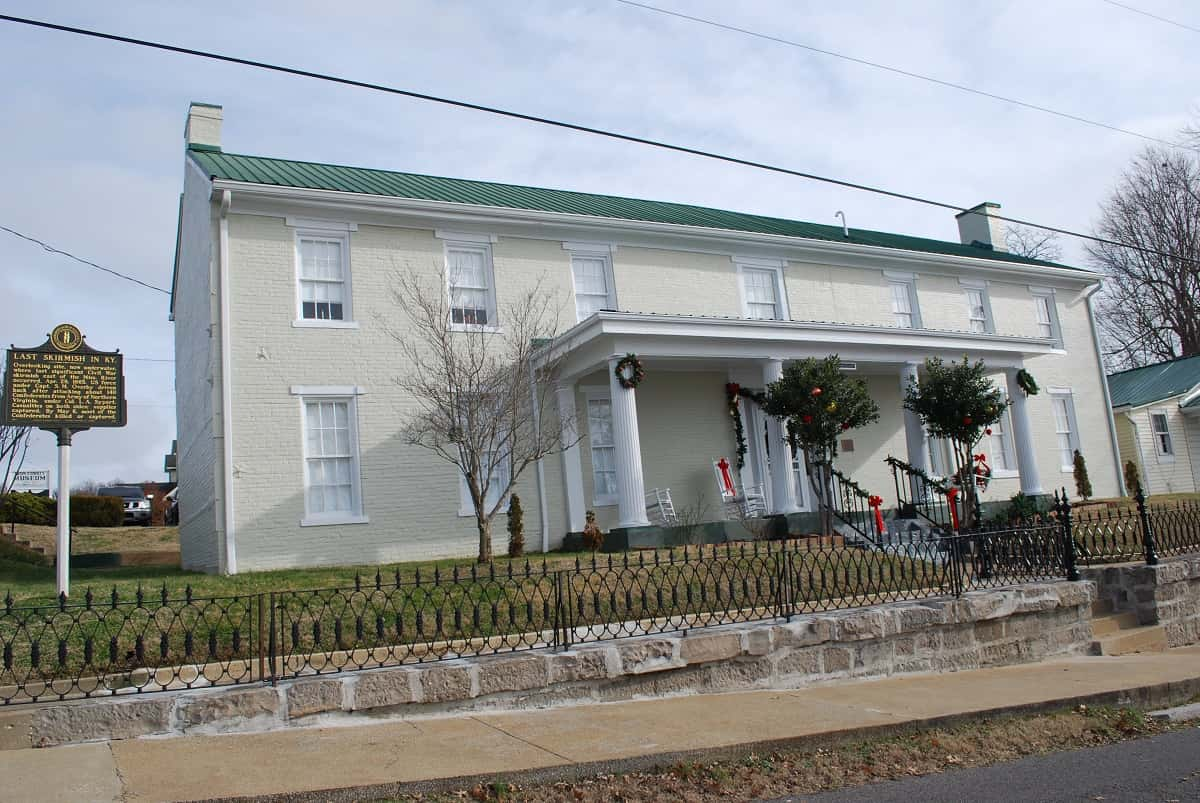 BY BOBBIE FOUST
Special to the Marshall County Daily
Rose Hill—a magnificent 19th century mansion and museum on the shores of Lake Barkley in Old Eddyville — will host its Grand Opening for the 2019 season from 2 to 4 p.m. May 19. The event will mark the beginning of
seasonal tours, which will be free that day. Thereafter admission will be $5 for adults, children under 12 free. Tours are scheduled from 1 to 4 p.m. Thursday, Friday, Saturday and Sunday with the last tour beginning at 3 p.m. through mid-October.
Rose Hill is the oldest standing structure in Lyon County. It was built in 1832 by Robert Livingston Cobb, grandfather of famed humorist, author and movie actor Irvin Shrewsbury Cobb.
The old mansion — the high priestess of buildings on the Cumberland River — has seen 187 years of history float by her front door, first on the river and now on Lake Barkley. Historians envision settlers, adventurers, gamblers and entertainers traveling aboard the steamboats plying the rivers between New Orleans and Nashville as pioneers watched from Rose Hill's front porch.
Rose Hill-The Lyon County Museum, houses artifacts, records, photographs, books, papers and furnishings that once belonged to the county's earliest settlers. Few rural communities have a museum that has the quality and quantity of artifacts that Rose Hill features or with the historic standing the building itself possesses. That is why its rehabilitation a few years ago, was crucial not only for today, but also for future generations. It also provides a major attraction for the many tourists who flock to the Lakeland every year.
The museum hosts dozens of tour groups from schools to excursion boat passengers to genealogists searching for their roots. "That building is such a teaching tool, and it's just such a part of who we are and what we have been," said Lyon County Historical Society President Sally Whittington. "I love it when children or teenagers tour … and they can see some of what used to be here that has nothing to do with an iPod or a phone, nothing to do with any electronic device. I just love to watch the wheels turn in their heads. We can see it in their eyes that they are really taking it all in."
Whittington, a retired teacher, often guides tours at Rose Hill ex-plaining the meaning of artifacts, photographs and furnishings. Students as well as tourists are frequently fascinated by the changes the cities of Eddyville and Kuttawa have undergone in the last half century. "They are intrigued with the fact that we have photographs of a town with stores and people milling around and about," Whittington said. "Then they look out an upstairs window (at Rose Hill) and there is nothing there but water and a street that goes down into the water and disappears. It's difficult for them to wrap minds around it — the fact that there used to be homes and businesses there. The remark that I hear kids make so often is, 'That's so neat.'"