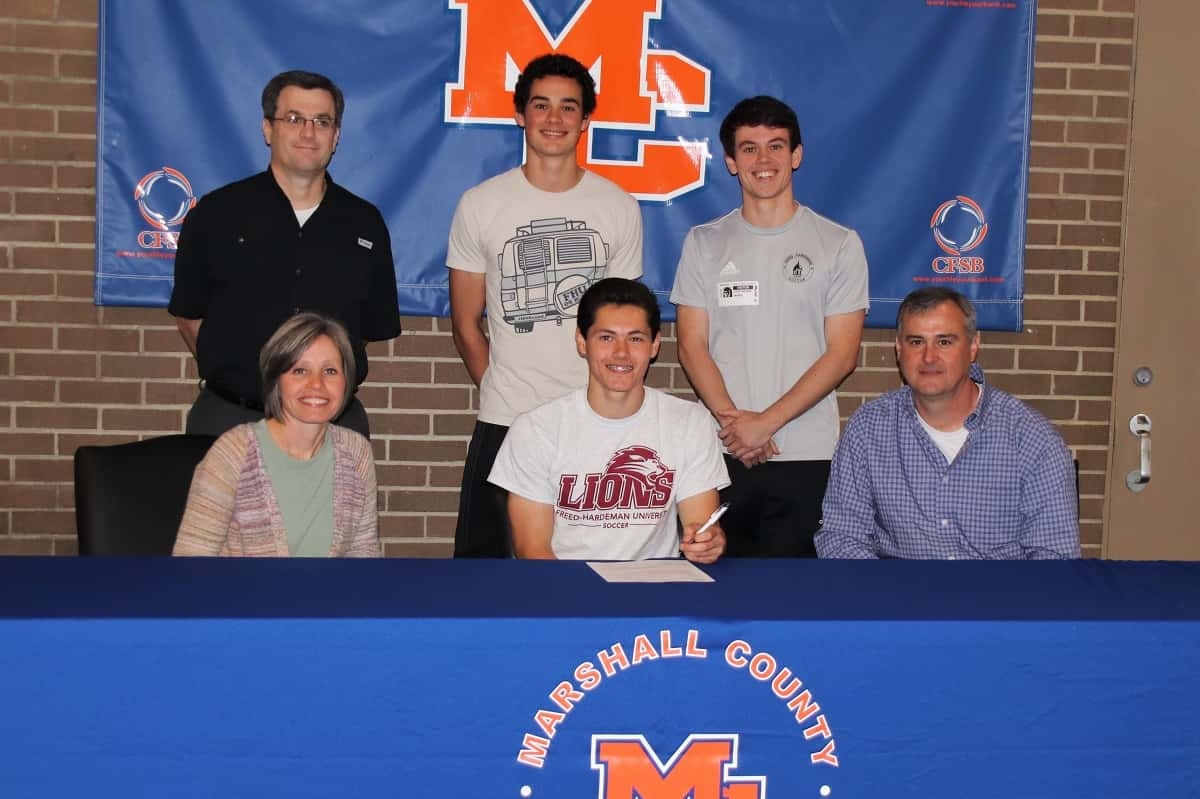 Seth Janiec signed Monday to continue his education and soccer career at Freed-Hardeman University in Henderson, Tenn. Seth will play for Head Coach Jason Elliott who has led the program for the past 18 seasons. Freed-Hardeman is a member of the American Midwest Conference and is an NAIA school.
Seth has been a member of the Marshall County program since 2015 and has been a vital part of the varsity team the last two seasons including the District Championship his senior season. A solid, steady and consistent left back, Seth has contributed to the varsity squad that went 27-13-2 the past two seasons and had two goals and one assist. During his senior season, Seth was a staple in a defense that ranked among the top 15 in the state in goals allowed at 1.1 per game. Seth is highly respected by his teammates and peers and is a leader on and off the field, as well as in the classroom.
"Seth is the total embodiment of our program and it's values", Head Coach Donnie Heath said. "He is a tireless worker, always seeking to improve himself, is respectful, selfless and a leader who puts the team first. Seth worked on his game over the summer and was one of our most consistent players this season and one who made a huge improvement. He is one of the hardest working players I've had the privilege of coaching. He pushes himself in whatever he does."
Seth was awarded the Stephen Poole Memorial Award, as voted on by his teammates. The award identifies a player who goes above and beyond on the field and off and exemplifies great character and personifies the ideal MCHS soccer player. He was voted All-District and All-Region 2nd Team his senior season. He was awarded the Senior Excellence award, which is sponsored by United Soccer Coaches and is an honor graduate candidate, currently holding a 3.89 GPA.
Seth credits past and current MCHS coaches Donnie Heath, Bryan Blevins and Andy Pagel with his development as a player and the Marshall County High School program for playing a large role in his growth as a person and as a player. Seth's parents Jason and Linda, brothers Luke and Sean and his grandparents have been with him throughout his entire soccer career with love, support and encouragement.
"Seth will be missed at Marshall County High School", Heath said. "We appreciate his commitment toward the program and are very proud of the man he has become. He's worked hard for this opportunity and we are excited for him and look forward to seeing all he accomplishes on and off the field."
Joining Seth at his signing in photos below, his family, Coach Jason Elliott and Coach Donnie Heath, members of his youth group, the soccer team and track team.