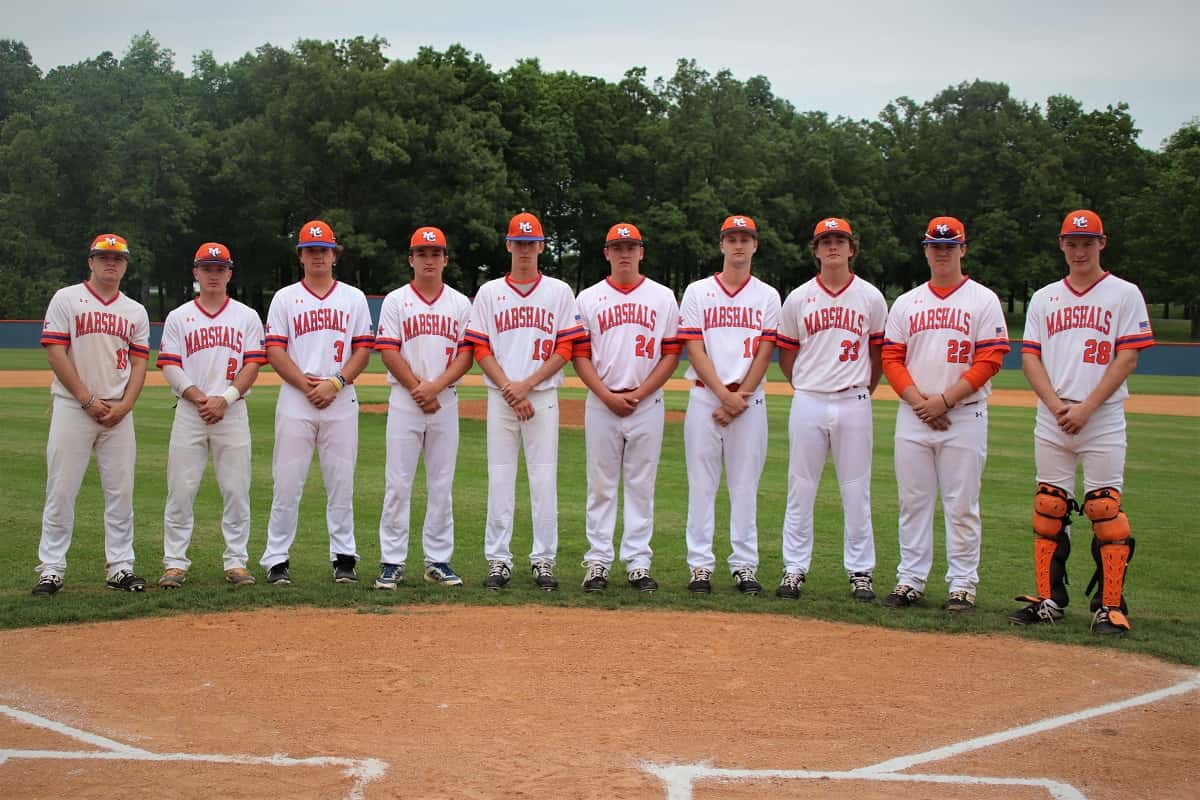 Marshall County celebrated their baseball seniors Monday night, the ten seniors and their parents introduced before the first pitch, then they capped it off with a 7-1 win over Murray. The Marshals tallied 14 hits, led by Ty Buchmeier with a single, double, triple and two RBI's. Riley Harris went the distance, striking out 10 while allowing just two hits and one run.
Murray scored in their first at-bat on a steal of home by Damon Boyd with two outs and Reece Wilson at the plate, but that would be the only run for the Tigers in the game. Cole Griggs hit a 2-out double in the bottom of the first, hitting the left field fence just a couple feet from going over. A walk by Tyler Belcher put two base runners on for the Marshals, both left stranded on the third out.
The Marshals tied it in the third inning when Cole Griggs hit a ground ball and reached on an error that brought Buchmeier to home plate.
Marshall County took a 4-1 lead in the fourth on an Austin Stockdale sacrifice and 2-run triple by Buchmeier. A run in the sixth came in on a 2-out double off the bat of Gage Griggs and two runs scored in the sixth inning with two outs on the board, coming on singles by Cole Griggs and Tyler Belcher.
The Marshals improve to 22-5 for the season and secured the number one seed in the district tournament with a district record of 4-0.
Class of 2019 seniors
Cole Griggs, son of Chris and Lori Griggs
Jacob Landis, son of David and Leah Landis
Griffen Ives, son of Kurt and Stephanie Ives
Austin Stockdale, son of Toney and Pam Stockdale
Brock Anderson, son of Billy and Brandi Anderson
Jordan Riley, son of Jerry Riley
Brian Westfall, son of Mark and Gayla Westfall
Tyler Belcher, son of Corey and Amie Belcher
Weston Harper, son of Brian and Deanna Harper
Jake Luebker, son of Edward and Wendy Luebker
Click and scroll through photos of the senior's and their parents during pre-game introductions.