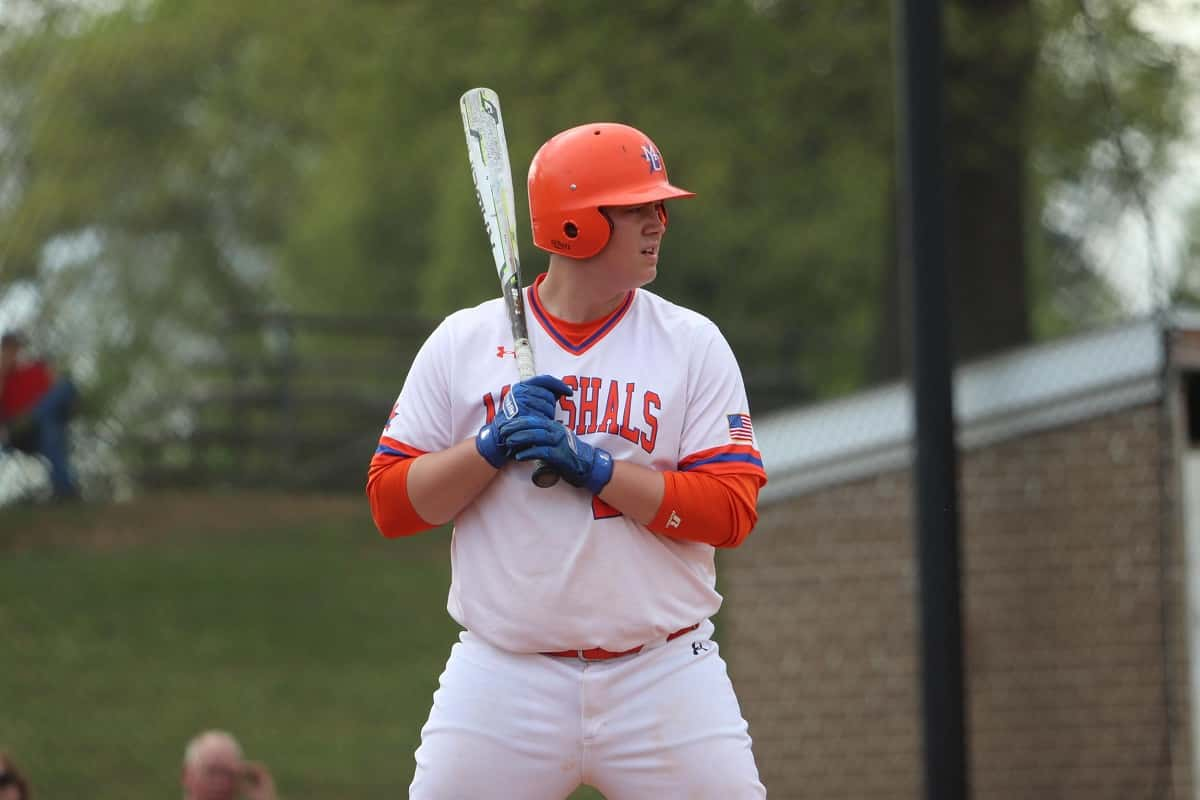 Friday against Paducah Tilghman at Brooks Stadium, the Marshals fell 11-1 in six innings, the win going to freshman Justin West for Tilghman in five innings, striking out five, allowing six hits and one run. The Marshals six hits came from Ty Buchmeier, Cole Griggs with two, Jordan Riley, Griffin Darnall and Austin Stockdale but the team also committed eight errors.
Tilghman scored four runs in the bottom of the second on a Mitchell Crouch sacrifice, two errors and a single from Josh Lang. Eric Riffe drove in a run in the fourth for a 5-0 Tornado lead before the Marshals scored their only run in the top of the fifth on a single by Griggs.
Tilghman added five more runs in the bottom of the fifth on a double by Couch,  single by Justin West, 2-run home run by Riffe and wild pitch and put the game away with one more in the sixth for the 11-1 win.
Marshall  0 0 0  0 1 0   x   1 6 8
Tilghman 0 4 0  1 5 1   x  11 8 1
HITTING
Marshall: Buchmeier 1/3, C. Griggs 2/3 (RBI), Riley 1/3, Darnall 1/3, Stockdale 1/2
Tilghman: Riffe 1/4 (HR, 3 RBI), Lang 2/4 (2B, 2 RBI), Thompson 1/4 (3B), Crouch 1/2 (2B, 2 RBI), Kiebler 1/3, West 2/3
PITCHING
Marshall: Harper 4.0 (5 hits, 7 runs), Harris 1.0 (2 hits, 3 runs), Luebker 0.2 (1 hit, 1 run)
Tilghman: West 5.0 (6 hits, 1 run), Fristo 1.0 (0 hits, 0 runs)
---
After two tough losses to McCracken County and Tilghman last week, the Marshals were back in the win column, picking up their 20th win 5-3 over Caldwell County on Monday.
John Davis drove in a run for Caldwell County in the bottom of the second, tied by the Marshals in the top of the third on a Cole Griggs single.
In the top of the fifth, Stockdale led off with a single, a sacrifice by Buchmeier moved him to second, Gage Griggs reached on an error and they loaded up the bases on a walk by Cole Griggs. Facing a count of 0-2, Jordan Riley hit a grand slam to put the Marshals up 5-1.
The Tigers cut in to the lead with two runs in the bottom of the fifth, the Marshals able to hold them off leaving a base runner stranded in the inning and two in the sixth. Griffin Ives earned the win in five innings, allowing six hits and three runs.
Marshall  0 0 1   0 4 0  0  5 5 0
Caldwell   0 1 0  0 2 0  0  3 6 1
HITTING
Marshall: G. Griggs 1/3 (RBI), Riley 1/3 (HR, 4 RBI), Ives 1/4, Neeble 1/3 (2B), Stockdale 1/3
Caldwell: East 2/4 (RBI), Parker (RBI), Holub 1/3 (2B), Owen 1/3, Davis 1/2 (RBI), Smiley 1/2
PITCHING
Marshall: Ives 5.0 (6 hits, 3 runs), Anderson 2.0 (0 hits, 0 runs)
Caldwell: East 5.0 (4 hits, 5 runs), Walls 2.0 (1 hit, 0 runs)