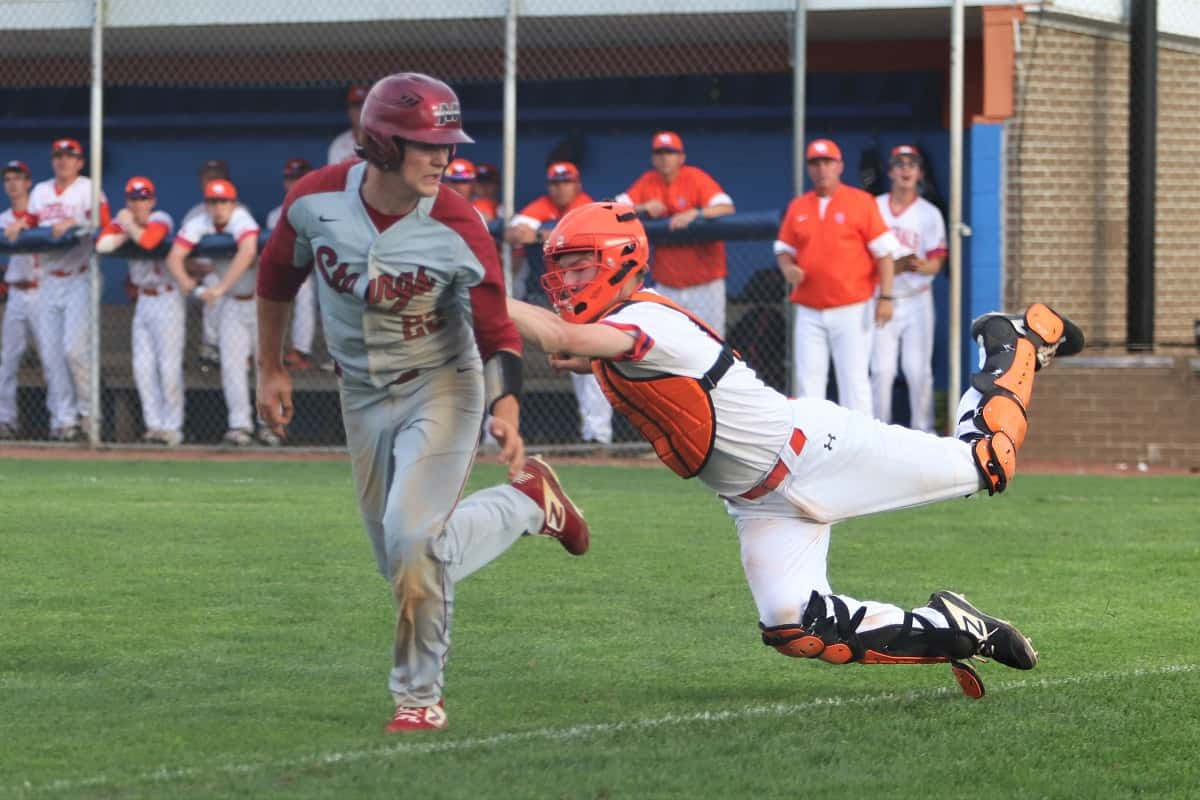 The Marshals 11-game win-streak came to an end Tuesday evening when they lost just their third game of the season to McCracken County in a 7-0 shut out. Both teams had four hits in the game and while the Marshals put runners on base, they fell short in getting them to home plate, leaving seven stranded through the seven innings.
The Mustangs scored a run in the top of the second on an overthrow to third from first baseman Jordan Riley, Dylan Schneider scoring after taking base on a walk. Two more reached on walks for the Mustangs in the top of the third, both left stranded.
McCracken County loaded the bases up on walks in the top of the fourth and with only one out, were set up to score some runs. The Marshals made quick work of the final two outs, picking off Michael Byrd between second and third by Cole Griggs throwing to catcher Tyler Belcher who chased down Logan Verble for the third out.
McCracken County again loaded the bases in the top of the fifth on a walk and two batters hit by a pitches. Grant Davis and Verble both hit 2-run singles to give the Mustangs a 5-0 lead. Dawson Smothers and Gage Griggs opened the bottom of the fifth with singles but both left stranded with the third out.
A single by Ben Higdon and walk by Kiaael Waldon put runners on base for the Mustangs in the sixth inning, prompting a pitching change for the Marshals – Brock Anderson coming in to relieve Skylar Brown – and facing one out, Elijah Wheat's ground ball led to a double-play for the Marshals.
Marshall County loaded the bases in the bottom of the inning, Cole Griggs reaching on an error, Belcher walked and with two outs, Smothers was hit by a pitch. Smothers was out heading to second on a fielder's choice leaving two stranded along with the Marshals hopes of a comeback.
Brandon Dodd hit a double and Grant Davis drew a walk in the top of the seventh, both scoring on an error and sacrifice fly from Verble for the 7-0 win. Jacob Ehling earned the win in six innings on the mound, allowing no runs, four hits and striking out five. The Mustangs improve to 14-6.
| | | | | | | | | | | |
| --- | --- | --- | --- | --- | --- | --- | --- | --- | --- | --- |
| |  1 |  2 |  3 |  4 |  5 |  6 |  7 |  R |  H |  E |
| McCracken |  0 |  1 |  0 |  0 |  4 |  0 |  2 |  7 |  4 |  2 |
| Marshall |  0 | 0 |  0 |  0 |  0 |  0 |  0 |  0 |  4 |  2 |
HITTING
McCracken: Dodd 1/1 (2B), Davis 1/3 (2 RBI), Verble 1/2 (3 RBI), Higdon 1/2
Marshall: Buchmeier 1/4, C. Griggs 1/3, Smothers 1/2, G. Griggs 1/3
PITCHING
McCracken: Ehling 6.0 (4 hits, 0 runs), Crabtree 1.o (0 hits, 0 runs)
Marshall: Brown 4.0 (0 hits, 3 runs), Anderson 3.0 (4 hits, 4 runs)