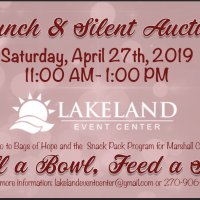 Lakeland Event Center is proud to partner with The Funky Monkey Pottery in this first annual event, The Giving Bowls.  The event is open to everyone!  Come in, choose a hand painted bowl, and fill it with the food of your choice from a variety of local restaurants and organizations!  There will be a silent auction going on as well and you can see many of the items from the link below!
Proceeds from this event will benefit the Bags of Hope Ministry as well as the Snack Pack Program for all of the schools in Marshall County.
The event will be help at Lakeland Event Center in Calvert City on Saturday, April 27th from 11am to 1pm.  Tickets at $10 in advance and $15 at the door!
https://lakelandeventcenter.com/the-giving-bowls