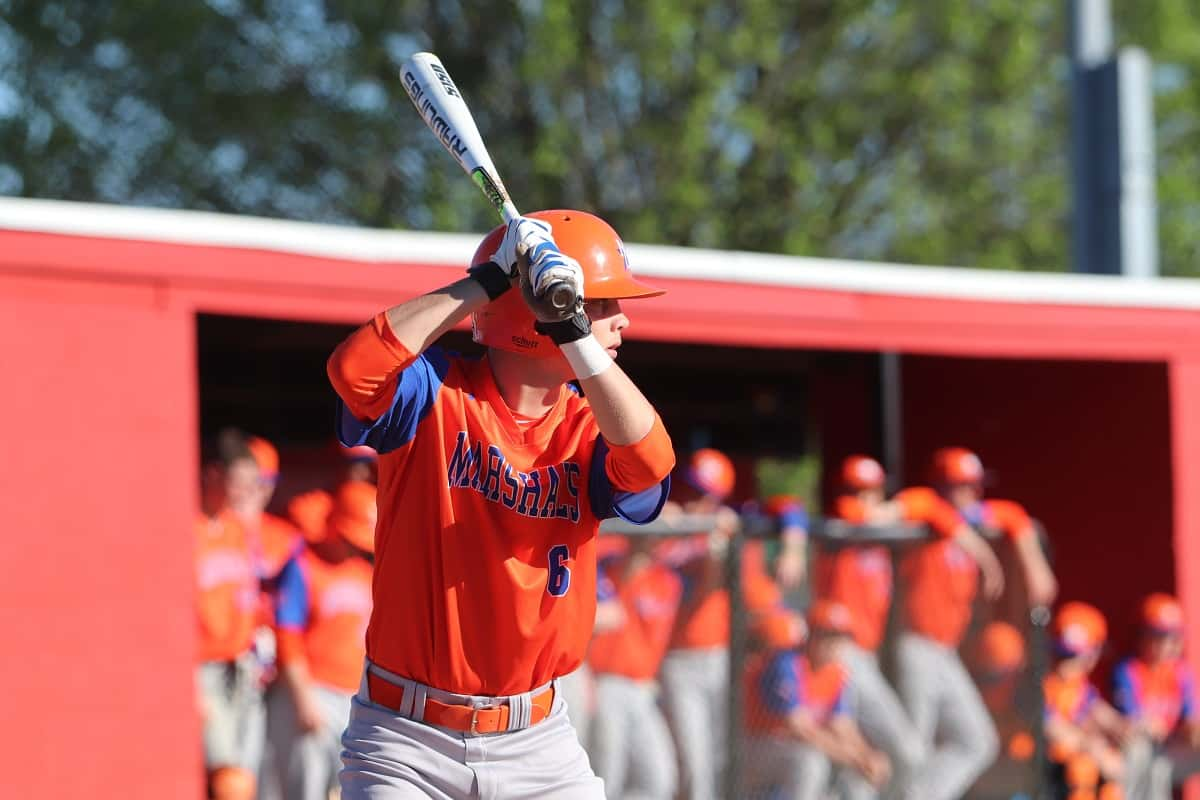 The Marshals head into play this week with a 18-2 record, following three wins last week over Murray, Clayton, Mo. and Burroughs, Mo.
In a district game at Murray on Thursday, the Marshals took care of the Tigers 13-1 in five innings on 10 hits. Scoring began in the first inning on a sacrifice by Tyler Belcher, seven runs scoring in the second inning on a 2-run double by Ty Buchmeier, Cole Griggs was hit by a pitch with bases loaded, another 2-run double by Belcher and a run scored on a wild pitch to lead 8-0.
A run scored on a wild pitch in the fourth inning and they put the game away with a 4-run fifth inning, scoring on a single by C.J. Johnson, Cole Griggs sacrifice, Belcher single and Jordan Riley double. Buchmeier and Belcher led at the plate, both 3/4 with doubles, two RBI's credited to Buchmeier and four to Belcher. Griffen Ives pitched the 5-inning win, allowing three hits, one run with six strike-outs.
Marshall  1 7 0    1 4 x  x  13 10 1
Murray    0 0 0    1 0 x   x   1  3  0
HITTING
Marshall: Buchmeier 3/4 (2B, 2 RBI), Johnson 1/2 (RBI), C. Griggs (2 RBI), Belcher 3/4 (2B, 4 RBI), Riley 1/4 (2B, RBI), Smothers 1/3, Neeble (RBI), G. Griggs 1/2
Murray: Gibson 1/3, Utley 1/3, Boyd 1/2, Miller (RBI)
PITCHING
Marshall: Ives 5.0 (3 hits, 1 run)
Murray: Outland 1.1 (4 hits, 7 runs), Shultz 3.2 (6 hits, 6 runs)
---
The Marshals headed to St. Louis for two games Saturday at Clayton High School, the first a 2-0 shut-out over host Clayton on 10 hits. Riley Harris led the Marshals in the shut-out, allowing four hits while striking out nine in his seven innings on the mound.
Scoreless through the first five innings, the Marshal's two runs came in the top of the sixth on singles by Belcher and Skylar Brown.
Marshall 0 0 0  0 0 2  0   2 10 1
Clayton    0 0 0  0 0 0  0  0  4  1
HITTING
Marshall: Johnson 1/4, C. Griggs 2/3, Belcher 2/4 (RBI), Riley 2/3, Brown 1/3 (RBI), G. Griggs 1/2, Stockdale 1/3
Clayton: Laakko 1/3, Keil 2/3 (2B), Sucher 1/2
PITCHING
Marshall: Harris 7.0 (4 hits, 0 runs)
Clayton: Sucher 7.0 (10 hits, 2 runs)
---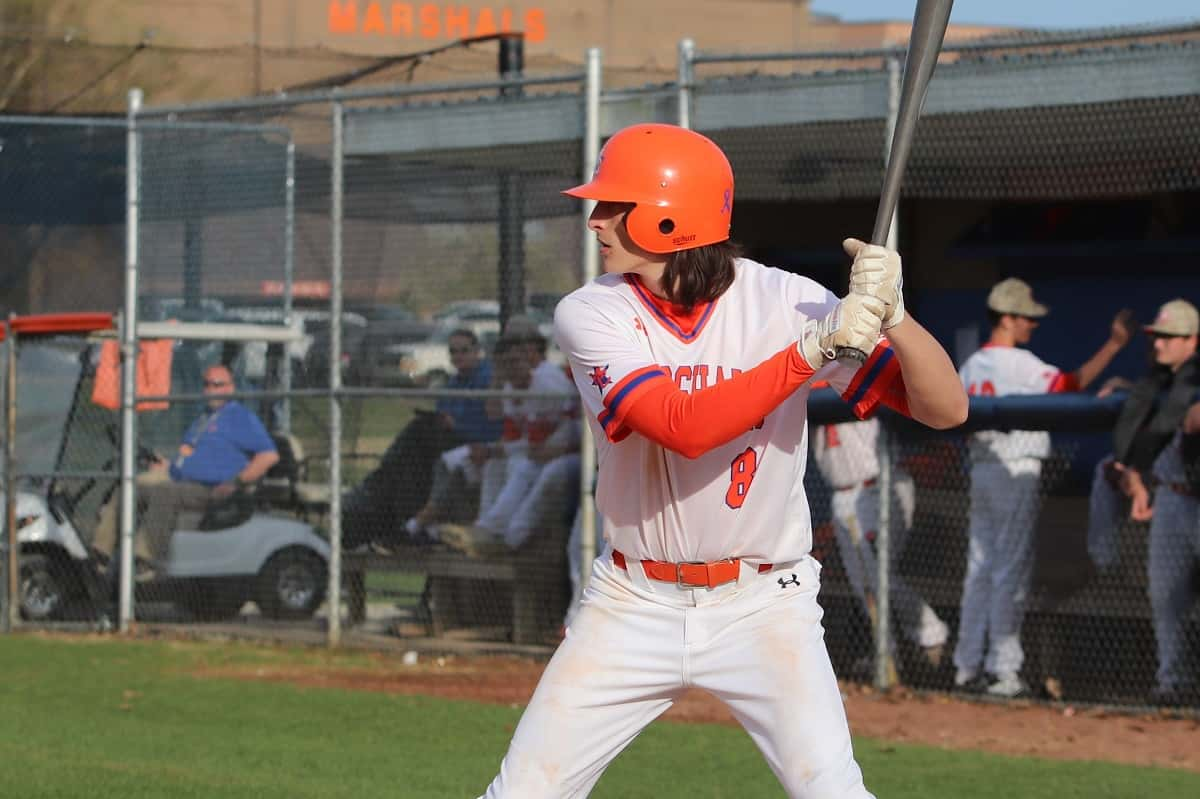 In game two at Clayton High School, the Marshals beat the Burroughs Bombers 9-4. They opened the game putting two base runners on, Buchmeier on a walk and Johnson on a single with Cole Griggs bringing in the first run on a double, a Belcher ground out scored the second run and a single by Riley gave them an early first inning 3-0 lead.
The Marshals scored runs in the fourth and fifth innings on a sacrifice by Isiah Neeble and single by Brady Ives to go up 5-1. Burroughs cut the Marshals lead to one in the bottom of the fifth, scoring on two doubles by Ben Goff and Drew Hardwick.
A 3-run top of the sixth for the Marshals came on a sacrifice by Dawson Smothers and 2-run double by Ives and the ninth run of the game came in on an error in the seventh. Weston Harper earned the win, allowing four runs while sitting down four.
Marshall County will host Ballard Memorial on Monday and McCracken County Tuesday, wrapping up the week on Friday against Paducah Tilghman at Brooks Stadium.
Marshall    3 0 0   1 1 3   1  9 11 2
Burroughs 0 1 0  0 3 0   0  4  7 3
HITTING
Marshall: Buchmeier 1/3, Johnson 3/4, C. Griggs 2/3 (2B, 2 RBI), Belcher (RBI), Riley 2/4 (RBI), Smothers 1/3 (2B, RBI), B. Ives 2/3 (2B, 3 RBI)
Burroughs: Edmonds 2/4, Turza 2/4, Goff 1/4 (2B, 2 RBI), Hardwick 2/4 (2B, RBI)
PITCHING
Marshall: Harper 5.0(5 hits, 4 runs), Anderson 2.0 (2 hits, 0 runs)
Burroughs: Kellaher 3.0 (4 hits, 3 runs), Hardwick 0.2 (0 hits, 1 run), Chunn 2.1 (5 hits, 4 runs), Edmonds 1.0 (2 hits, 1 run)