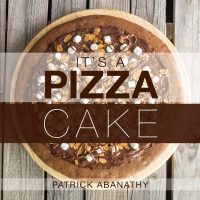 Patrick Abanathy is a local photographer in Murray, KY with a passion for cooking.  While working in the Reno area, he got the inspiration for a wild idea to put together a recipe for a different kind of dessert pizza….and so began the journey for his book "It's A Pizza Cake".
This book was 10 Years in the making!  He has moved 2,000 miles across country with with his wife, started his photography business, and tested TONS of different flavors combinations to get to where the recipes were perfect.  Without his wife, Elizabeth, this book would not be possible.  She was the Graphic Designer behind making all of Patrick's recipes and pictures look like the amazing book that they do today!
These are not your normal dessert pizza's either!  There are a total of 15 different recipes included in this first book….and he is planning for more books in the future!!  Some of the recipes include Oranges 'N Cream Pizza, Wildberry Grape Pizza, and PB&J Pizza!
Be sure to Check out his Facebook Page It's A Pizza Cake
"It's A Pizza Cake" was not only Written in Kentucky, but it was also Published and Printed in Kentucky as well!
You Can Also Purchase it on Amazon by Clicking Here