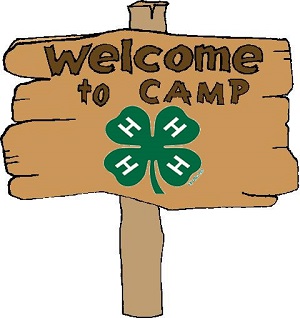 Marshall County is set to go to 4-H Camp on Tuesday, July 9th through Friday, July 12th with Ballard, Carlisle, Fulton, Calloway, and Graves Counties. The fun-filled four day and three night camp is held at the West Kentucky 4-H Camp in Dawson Springs. The deadline to register for 4-H Camp is right around the corner! We are already on a wait list for our boys, but starting to fill up quickly in a second girls cabin! Get signed up today!
The 2019 Marshall County 4-H Camp deadline has been extended to Wednesday, May 1st from the previously published date of April 10th. There is a discount for the first 75 campers signed up by this date! Marshall County youth between the ages of 9-14 as of first day of camp (7/9/19) who wish to attend camp must have their registration forms and $50 non-refundable payment into the Marshall County Extension Office by May 1st. Registrations and scholarship applications will not be accepted unless fully completed and first payment made.
The cost of 4-H camp is $200 per camper for the first 75 signed up by May 1st! After that, the cost is $235 per camper. This fee includes lodging, meals, transportation, camp T-shirt, fun activities, awesome evening events, and much more. Due to the generosity of local businesses, organizations, and others, there are some scholarships available. Parent/guardians and the camper must complete their respective parts on the back of the Marshall County 4-H camp registration form, scholarship applications, and first payment must be turned into the Extension Office or postmarked by May 1st to be considered for a scholarship. Registrations will be accepted after May 1st on a space available basis only, but those campers will not qualify for a scholarship.
4-H Camp registration forms are available from your child's school office or the Marshall County Extension Office. The Extension Office is located at 1933 Mayfield Highway (corner of Slickback Road and Highway 58) or call 270-527-3285 to request one be mailed to you.