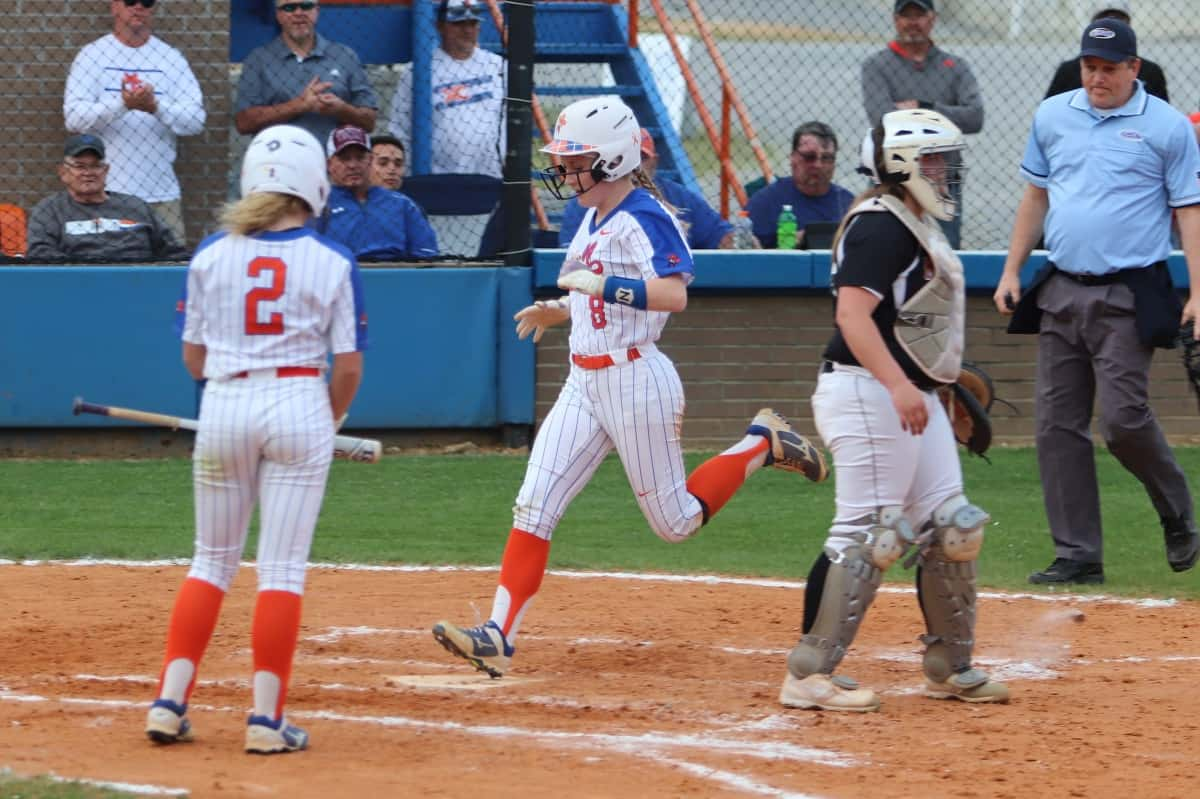 Marshall County and McCracken County, two of the top softball teams in the region, met in their first of two regular season games Tuesday at Marshall County. Tied 1-1 at the end of the seventh inning, the game went into extra innings with McCracken County pulling it out, scoring two runs in the top of the eighth for the 3-1 win.
The Lady Marshals put base-runners on in the bottom of the first inning and scored a run in the bottom of the second that began on a Riley Piercefield single. Sarah Stokes running the bases for Piercefield, stole second then an error by McCracken County catcher Mackenzie Durbin on an overthrow to second, sent Stokes around third and straight to home for the run.
The Lady Marshals sent the first three McCracken County batters down in each of the first three innings until the top of the fourth when a single by Ariel Fox gave the Lady Mustangs their first base runner. Fox was thrown out at second following a bunt by Macy Bynum and the Lady Marshals made quick work of the threat on a double-play by short stop Cayson Conner to Gracey Murt at second then on to Addie Young at first.
McCracken County tied the game in the top of the sixth on a Zoe Smithson single that scored Alli Douglas who singled to get on base. Tied 1-1 after seven innings, the game went into the eighth and the Lady Mustangs loaded the bases on an Emma Ballard single, Douglas reached on an error and Fox drew a walk. Bynum popped up for the second out of the inning followed by a walk by Lacey Cruse that brought in Ballard followed by a single by Ashby Murt that gave the Lady Mustangs a 3-1 lead.
With two outs in the bottom of the eighth, Addie Young took first after she was hit by a pitch and Jezik hit her second double of the game but the two were left stranded with the final out.
Both Gabbi Lovett and Natalie Young were great on the mound, both going the distance, with the win going to Lang who allowed six hits, one run and eight strikeouts.
McCracken 0 0 0   0 0 1   0 2   3 7 2
Marshall      0 1 0   0 0 0   0 0   1 6 1
HITTING
McCracken: Fox 1/3, Smithson 1/1 (RBI), Cruse (RBI), Murt 2/4 (RBI), Durbin 1/4, Ballard 1/3, Douglas 1/3
Marshall: Pursley 1/3, Tomassi 1/3, Jezik 3/4 (2-2B), Piercefield 1/3
PITCHING
McCracken: Lang 8.0 (6 hits, 1 run)
Marshall: Lovett 8.0 (7 hits, 3 runs)