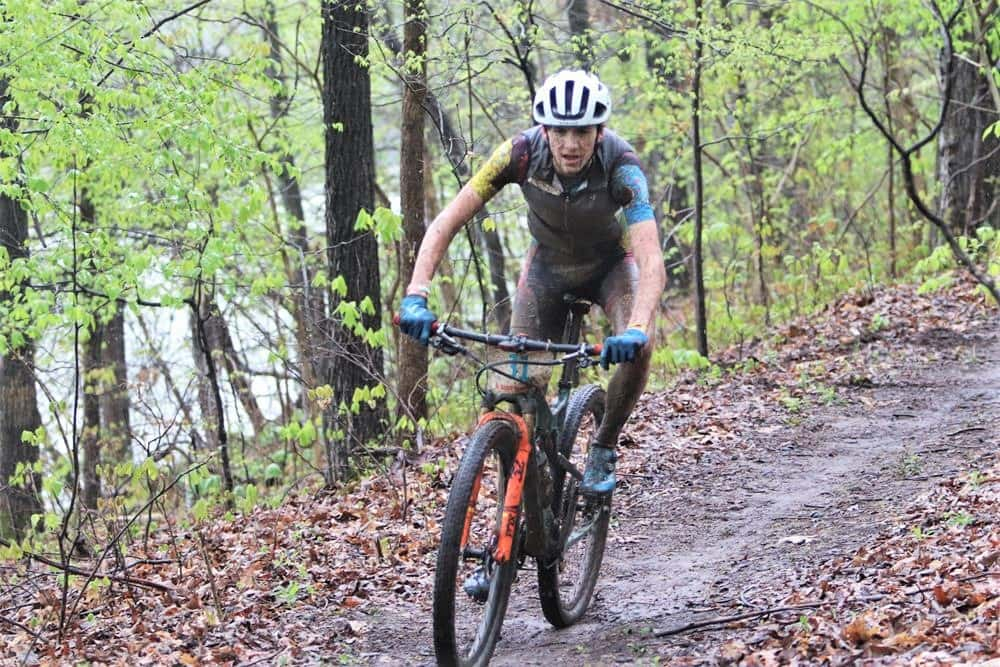 The Marshall County Mountain Bike Team hosted the first ever "Drop the Hammer" mountain bike time trail race at the Bo Beckett Memorial Trail (BBMT) located at Kentucky Dam Village State Park with support from Wood-n-Wave Bicycles and Watersports and Kentucky Dam Village State Park.
The race start was located on the upper parking lot of Kentucky Dam Marina with racers starting at equal intervals in the individual time trial, racing against the clock over the 10-mile course of tight, twisty terrain while hopefully taking in the occasional view of beautiful Kentucky Lake.
A USA Cycling sanctioned event with TBRA (Tennessee Bike Racing Association) points awarded, organizers plan to make this a regular race event with plans to expand the format in the future.
The fastest 10 mile lap time of the time trail was turned in by Watt Hackney of Franklin, Tenn. racing in the Cat 2/3 men's race, crossing the line in 57:11. The Junior Male/Female 9-14 categories raced a 6-mile course with the fastest time turned in by Shelbi Fields of Olive Branch, Miss. in 35:30.
Drop the Hammer podium results:
Men Pro/Cat 1
1st Jaxon Story
Women Pro/Cat 1 
1st Christie Brinker (Wood-n-Wave)
Men Cat 2 40+
1st Tracey Hackney
2nd Shawn James (Wood-n-Wave)
3rd Jamie Dumanski
Cat 2/3 Male (combined)
1st Watt Hackney (Nashville Local Cycling)
2nd Sean Barnes (Moab Racing)
3rd Jackson Allen
Women Cat 2
1st Presleigh Jennings (Wood-n-Wave)
Men 50+
1st Kevin Bohanon (Wood-n-Wave)
2nd Bruce Ford (Wood-n-Wave)
3rd Sam Conner
Singlespeed
1st Frank Martin (Wood-n-Wave)
Junior Male 15 & over
1st Jack Gessler (True Performance Jr. Development)
2nd Troy Fields
3rd Asa Holliday (True Performance Jr. Development)
Junior Female 15 & over
1st Allie Burkeen (Wood-n-Wave)
2nd Natalie Norwood (Wood-n-Wave)
3rd Alyssa McClain (Wood-n-Wave)
Junior Male 14 & under
1st Ty Elrod (Wood-n-Wave)
2nd Mason Dumanski
3rd Memphis Ford (Wood-n-Wave)
Junior Female 14 & under
1st Shelbi Fields (Nunchuck Bunnies)
2nd Claire Austin (Wood-n-Wave)
3rd Anniston Barnes (Wood-n-Wave)