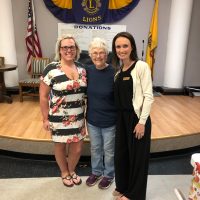 I had the opportunity to talk to Marcella this morning when we presented her with the check from Kentucky Lake Young Professional's recent Chili Lunch Fundraiser!  WOW, is all I have to say!  Marshall County stepped up, and showed out for a wonderful cause….we were able to raise $2,512, of which was ALL given to Marcella's today thanks to the generosity of several local businesses and Unions!
Marcella and her many volunteers are so excited to be so close to being in their new building and she says the she "Gives all the Glory to God".  Our community has stood behind her from day 1 and has helped make her dream a success and helped her feed so many.  The new facility will be open soon, where she hopes to serve even more than she already does on a daily basis.  They have been blessed to be able to perform all of the needed repairs and new construction on the old doctors office building the acquired without any loans!
NEW LOCATION ADDRESS: 868 GUY MATHIS DRIVE in BENTON
She wanted me to be sure to let everyone know about a few Special Upcoming Dates:
April 18th: Marcella is hosting a Volunteer Appreciation Dinner for all of her Volunteers at the new facility.  There will be a tour starting at 5:30pm with dinner beginning at 6:30pm.
April 25th, 26th, & 27th: Marcella's will be hosting Donor Dinners for all of the people that have helped them to get into their new building.  They have sent out over 400 invitations that include a plus 1, which is why these are spread over 3 nights!  These will be sit down dinners beginning at 6:30 and will be cooked at the new facility and served by the Board of Directors!
May 5th: GRAND OPENING DAY 1pm – 4pm
May 6th: 1st Meal Served to the Public at the New Facility 11am – 1pm