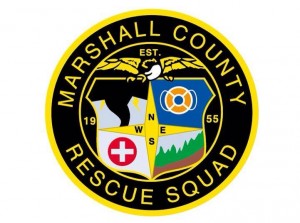 The Marshall County Rescue Squad has begun its Annual Spring Fundraising event. Last year, your Rescue Squad responded to 127 emergency calls for assistance. We could not have completed our mission without your generosity and support. Donations such as yours enable us to maintain our equipment, provide our members with quality training, and support our ultimate mission of helping our community in its time of need.
2019 has started out busy for the rescue squad and we once again humbly ask for your financial support. Please consider a minimal $25.00 donation, but any amount helps us help others in their darkest hour. Our goal this year is to raise at least $35,000 in order to purchase updated flood water rescue equipment. Again this year we will only be sending out this donation request letter for our spring fundraiser. We will not be calling you or knocking on your door during the next few months, so please do not hesitate to report any type of solicitation other than this request. Donations may also be made via our website, www.marshallcountyrescuesquad.com. (This is a very safe and easy way to contribute to our mission).
The Membership of the Marshall County Rescue Squad truly appreciates your continued financial support of our organization and its vital mission.