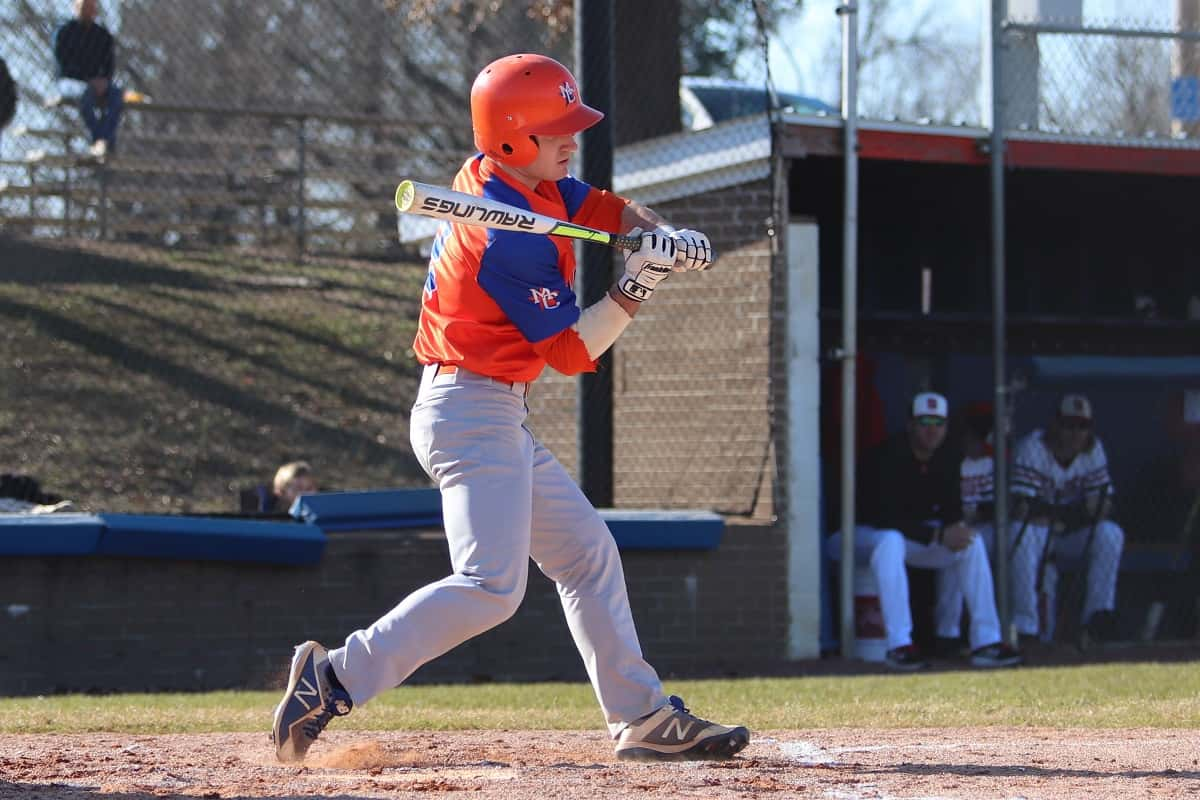 The Marshals stopped in Knoxville Saturday on their way to Myrtle Beach, SC for two games against Northwest of Clarksville, Tenn. and McHenry, Ill. In their 9:00 a.m. game against Northwest, the Marshals won 5-3 on nine hits, the win on the mound going to senior Brock Anderson in four innings of work, allowing three hits, three runs while striking out seven batters.
In the top of the first inning, a Cole Griggs double scored Ty Buchmeier followed by a Skylar Brown grounder that brought in Griggs for the early 2-0 lead. Northwest scored a run in the bottom of the first and the Marshals added one more in the top of the second on an Austin Stockdale single for a 3-1 lead.
Northwest tied it at 3-3 in the bottom of the third before the deciding 2-run top of the fourth by the Marshals, scoring on a C.J. Johnson bunt and Tyler Belcher single for the 5-3 win.
Marshall     2 1 0  3 0 x  x  5 9 1
Northwest 1 0 2  0 0 x  x  3 3 2
Marshall: Buchmeier 3/3, Johnson (RBI), C. Griggs 1/3 (2B, RBI), Belcher 2/3 (RBI), Brown (RBI), B. Ives 1/2 (2B), Stockdale 2/2 (2B, RBI)
Marshall pitching: Anderson 4.0 (3 hits, 3 runs), G. Ives. 1.0 (0 hits, 0 runs)
---
Marshall County met McHenry, Ill. in their second game Saturday, winning 8-6 in six innings on 10 hits. Riley Harris earned the win from the mound in five innings, allowing seven hits and five runs.
Leading 3-2 after three innings, the Marshals 5-run top of the fourth was huge on their way to picking up their seventh win of the season. A Jacob Landis single on a bunt and Stockdale double led to an RBI by Johnson and single by Cole Griggs for the 6-2 lead, the inning highlighted by a Belcher 2-run homer for an 8-2 lead. McHenry rallied scoring runs in the bottom of the fifth, adding another run in the sixth.
Marshall  0 1 2   5 0 0  x   8 10 5
McHenry 0 1 1   0 3 1  x   6  8 4
Marshall: Buchmeier 1/4, Johnson (RBI), C. Griggs 2/4 (2 RBI), Belcher 3/4 (2B, HR, 2 RBI), Brown 1/3 (RBI), Landis 1/2, Stockdale 2/3 (2B)
Marshall pitching: Harris 5.0 (7 hits, 5 runs), Ives 1.0 (1 hit, 1 run)