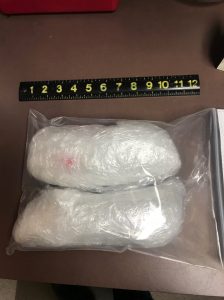 On Wednesday, March 20th, 2019, a Princeton, Kentucky resident was arrested and charged with drug offenses in Marshall County.
Deputy Steven Oakley with the Marshall County Sheriff's Office conducted a traffic stop on U.S. Hwy 62 in Calvert City, Ky. Deputy Oakley made contact with the operator of the vehicle, Brian Martinez of Princeton, Ky. Mr. Martinez admitted to possessing over 2 pounds of methamphetamine in the vehicle. Mr. Martinez stated that he was delivering the methamphetamine to Marshall County for distribution. Mr. Martinez is currently on federal probation for trafficking in methamphetamine and was lodged in the Marshall County Jail.
The methamphetamine seized during the course of the investigation has a street value of over $100,000.
This investigation is the result of a multi-jurisdictional investigation involving the Marshall County Sheriff's Office, McCracken County Sheriff's Dept., Kentucky State Police and Drug Enforcement Agency. When agencies cooperate and work together, you can expect to see results.
Brian Martinez was charged:
– speeding 15 mph over limit (work zone),
-trafficking controlled substance 1st degree 2nd offense more than 2 grams of meth,
-possession of drug paraphernalia