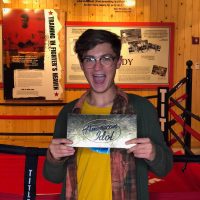 As most of you already know….Carson got a Ticket to Hollywood!!!  Below is a glimpse into the his 3rd Round of Auditions which took place in Louisville in October.  The following story comes straight from Carson's mom, Krystal, to give us insight into how the day progressed, as well as a few pictures that she supplied.
'Here's a few pictures of our trip to Louisville before he auditioned in front of the judges. We took 24 people with us, rented a passenger van and had a blast. Great memories we will never forget. They did lots and lots of filming with Carson and his group so I guess we just assumed it would all make it to tv. I Believe there were close to 60,000 entries for this and about 190 tickets were given out. So to even get to the judge round is a great accomplishment. They obviously cannot show everyone.

If you watched the first opening show they showed Carsons face first, writing something down. They had let off 75,000 paper lanterns in Vegas at the beginning of the show written on with all the wishes and dreams of the contestants. This first pic is Carson writing on his which didn't get shown,
#marshallstrong he was so proud of this too.  The others are random pics of before and during the looonnngggg day in October for Louisville judge round.
Also we want to say how much we all appreciate all the love and support he's been shown up til now. We are so proud.'
We will have more information about Carson's American Idol Adventure as they can share it with us…so stay tuned!