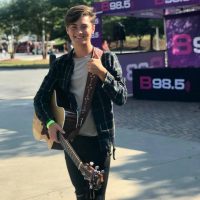 This is a continuation story of our local American Idol hopeful, Carson Denfip!   His Mom, Krystal Denfip, has decided to do a series of stories leading up to his Louisville Audition!  First stop was Chattanooga, TN then on to the 2nd Audition in Atlanta, GA.
The following story comes straight from Krystal to give us insight into how the day progressed, as well as a few pictures that she supplied.
Atlanta September 20, 2018 (2nd Round Audition)
This process seemed to be a little more organized and a quicker event. We had a call time of 9 am but were told to arrive early. So we did. This was the same day as the last open call city for the whole season. It was busy. There was lines of people doing just what we had done at Chattanooga for open call. There was also another line of people with us for a callback audition. This was in front of executive producers this round, not the celebrity judges. If he made it through this time the judges would be the next stop! And he did! 
He wasn't gone long at all and they made all the parents set in the auditorium and wait. He was allowed to take his phone back this time with him. All 4 of us went this time. So Jason, Kaylin and myself waited, people watching mostly. Listening to others practice and just waiting to hear from him. We had been told it would be two parts to this day and might take a while. He would sing 2-3 new songs this round. We mingled and chatted with other contestants and parents around us still not knowing how things were going. We saw many parents get calls or texts and quietly get up and leave. I assumed this was bad news. Finally he sent a text that said. "I made it stay seated". We were trying so hard to contain this excitement quietly when I knew others were leaving disappointed. It's so hard to see so many talented hopefuls go home. And we have met and seen so many talented people. 
Now he finally called me and said 'ok I'm done we can go'. So we made our way out and got to finally hug him and see his happy face! He was so happy, grinning and seemed to be in a a state of shock. It was a much quicker process and out the door we went. Some local tv and radio stations were there when we exited and caught him for some interviews but we were not there long. 'Holy cow' he kept Saying 'what did I just do!?? I get to sing in front of Katy Lionel and Luke!! Crazy stuff'. It's been a fun journey so far and as we approach tonight, it is the final night of the judges round auditions… I am still hopeful we get to see part of his audition from that day, but we have not been confirmed this. We are all watching just the same.
Stay tuned tonight 7:00 pm. We hope to see more clips from that day. We will be watching and I plan on going live from our watch party at our house! Thank you all for all the support, love and encouragement everyone has shown us, we are super grateful.
Hope you Enjoy some pics from the Atlanta audition day !