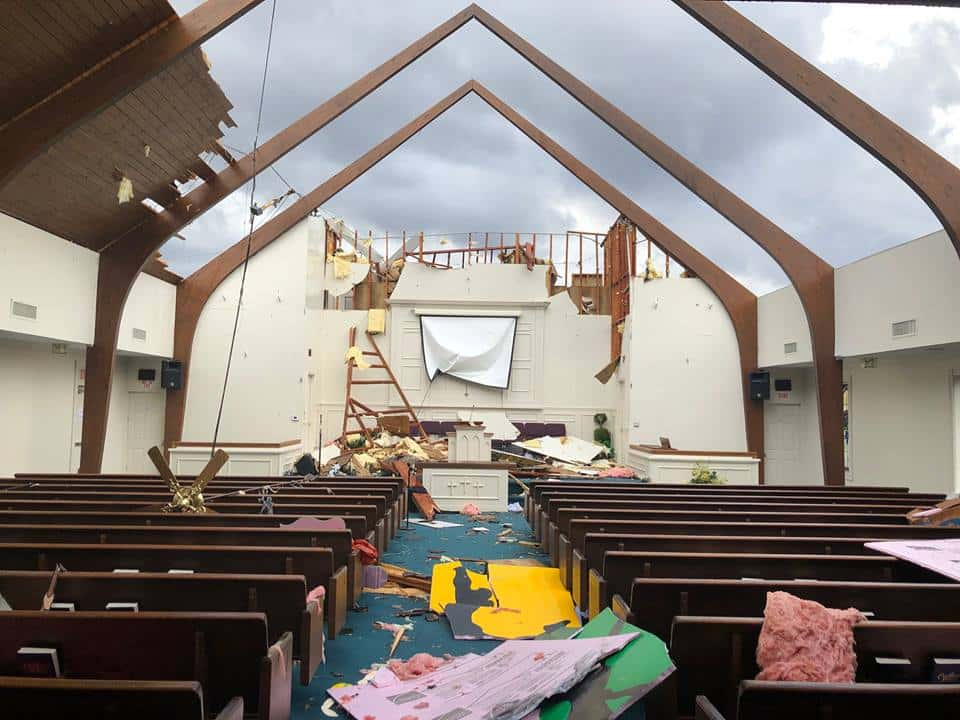 At approximately 9:20 AM, first responders were notified of a tornado in West Paducah. McCracken County Deputy Sheriff Sgt. Ryan Willcutt responded towards the West Paducah area to watch for incoming weather. While sitting stationary on the parking lot of Mt. Zion Church, Sgt. Willcutt observed the tornado on the ground coming towards his direction and made notification of the direction of travel of the tornado. His police vehicle sustained extensive damage which included punctured tires and busted windows as a result of the flying debris field. Sgt. Willcutt was
not injured.
Approximately five square miles of Western McCracken County were affected by the tornado, including Mt. Zion Pre-school Center at 9701 Blandville Road. There were forty students at the Pre-school at the time of the incident, and although the building received extensive damage, no children or instructors were injured.
"The hand of Almighty God, without a doubt, shielded and protected not only these children but our entire community. This could have resulted in a very high number of fatalities. We are very glad and blessed to report only one very minor injury."
First responders are checking all residences in the area to ensure everyone's safety. The American Red Cross is prepared to establish shelter to provide assistance to displaced families that may have been affected by the incident. They are currently operating an evacuation center at Broadway United Methodist Church for residents affected by the storm. This center will be to assist with immediate needs and to provide information.
Currently, several roads are shut down due to debris and downed power lines. Those roads are HWY 62 east of McKendree Church Road and HWY 286 east of McKendree Church Road. All traffic into those areas is being diverted across McKendree Church Road to US HWY 60. Traffic traveling on Blandville Road, westbound, is being diverted to
Fisher Road and then to US HWY 60.
If you have any damage to report you can contact Emergency Management at 270-448-1530. We are requesting the public to stay clear of any downed power lines. Numerous linemen are on scene to restore power to the area. At this time there is no estimated time for power to be restored. The McCracken County Judge Executive's Office has declared a State of Emergency for the county.
The McCracken County Sheriff's Department, the Kentucky State Police, and the Kentucky Department of Fish and Wildlife officers will have directed patrols in the area. Any trespassers or looters will be arrested and prosecuted. If you do not reside in the affected area, please stay clear to allow crews to effectively do their jobs.
Agencies currently at the scene are the McCracken County Sheriff's Department, Paducah Police Department, Ballard County Sheriff's Department, Kentucky State Police, McCracken DES/Rescue, Concord Fire Department, Paducah Fire Department, West McCracken Fire Department, Lone Oak Fire Department, Massac County, Illinois
Emergency Management, Kentucky State Emergency Management, Jackson Purchase Rural Electric, ATF, McCracken County Road Department, the Kentucky Transportation Cabinet District 1, Fish and Wildlife, and the American Red Cross.