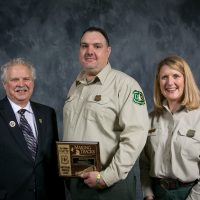 USDA News Release: Harrisburg, IL—March 12, 2019— The Forest Service works with National Wild Turkey Federation in a variety of ways to promote conservation ethics and best manage the land resource through active forest and habitat management. National Wild Turkey Federation (NWTF) and the Forest Service have collaborated on 114 projects — including several in the development phase — across nearly all Forest Service regions, impacting more than 70,000 acres and contributing a value of almost $40 million.
Each year the NWTF in partnership with the US Forest Service acknowledges national forests or individuals across the country that excel in developing strong projects and partnerships in accomplishing mutual goals.
Recently Forest Service employee, Dennis Wilson, was selected by his peers to receive the Making Tracks National Award in recognition for his outstanding accomplishments in the partnership achievement category. The partnership achievement award recognizes accomplishments in strengthening and expanding the partnership between the Forest Service and the NWTF.
Sharing his time between Land Between the Lakes National Recreation Area and Shawnee National Forest, Wilson fills a unique position as a Timber Program Manager & Contracting Officer. Wilson's dedication and passion for the resources and enthusiasm for building successful partnerships enabled the NWTF to expand collaborative efforts in a four-state area.
Working on the Shawnee National Forest, Hoosier National Forest and Land Between the Lakes National Recreation Area Wilson developed strong partnerships with local, state and federal agencies; local and state chapters of the NWTF; forest industry and numerous other organizations to initiate collaborative projects. These projects improved forest health, wildlife habitat, non-native invasive species removal and engaged NWTF, conservation organizations and private industry in providing educational information on forest management activities and their ecosystem benefits.
These partnership activities also improved habitat for the wild turkey, bobwhite quail, white-tailed deer and many other species while providing forest products and improving forest health. Many of the activities were highlighted through public education, outreach and interpretation activities, including interpretive signs, Turkey Country magazine, multiple social media outlets and at accessibility hunts.