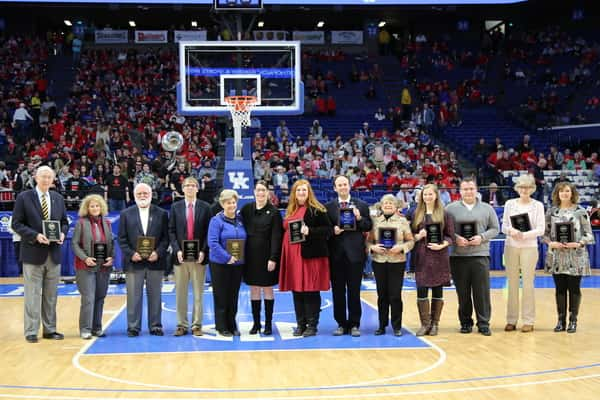 LEXINGTON, Ky. On March 7, Secretary of State Alison Lundergan Grimes recognized educators and community leaders for their work to promote civic education and engagement in Kentucky. She held a ceremony at Rupp Arena during the Whitaker Bank/KHSAA Boys' Sweet 16 and honored an individual from each KHSAA region and a
statewide recipient.
The Kentucky Outstanding Civic Education Leadership Award program recognizes teachers, school administrators, legislators and community leaders who have made notable contributions toward promoting or implementing civic learning to prepare students to be active and engaged in their communities.
Linda Calhoun (Region 16) is the 2019 winner! Calhoun is the instructional supervisor and food service director at Ashland Independent Schools and has had an impact on almost every facet of her community. Throughout her accomplished career, Linda has shown a commitment to innovation. From introducing STEM programs into the
district or focusing on childhood hunger in Ashland to integrating authentic community-focused learning in classrooms, Linda uses every opportunity as a teachable moment to enrich and enlighten. One of Linda's nominators called her a visionary leader and said that she fully understands that the students are the future and that's what drives her educational approach. She received the $1,000 award to help fund her civic endeavors.
The 16 regional finalists are:
*Region 1 – Dr. Jack Rose
*Region 2 – Nan Ternes
*Region 4 – Donald C. Butler
*Region 5 – Kendrick Bryan
*Region 6 – Linda Belcher
*Region 7 – Alex Muckler
*Region 8 – Benjamin Gies
*Region 10 – JoEllen Reed
*Region 12 – Kelley Gillum
*Region 13 – Jason Reeves
*Region 15 – Pamela Burton
*Region 16 – Linda Calhoun
Each regional finalist received a $250 award for their civic education programs.
The Secretary of States office partners with Northern Kentucky University, Kentucky Administrative Office of the Courts, which judges the nominations, and Kentucky Department of Education to present this award annually.