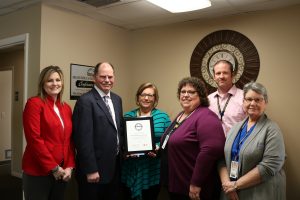 Pictured left to right: Suzanne Riley, Division Director of AHA, Rod Kimble, Impact Manager RQI Partners Sub of AHA and Laerdal, Carol Perlow, Director of Educational Services, Lori Callihan, Clinical Educator, Jeff Eye, Chief Nursing Officer, and Mary Linn, Clinical Educator.
MURRAY, KY –Murray-Calloway County Hospital has utilized the American Heart Association's (Association) Resuscitation Quality Improvement (RQI®) program for the past 2 years, replacing the past practice of conducting resuscitation training in the classroom.
"RQI is a new and truly innovative program that has transformed the way hospitals view CPR competency for their staff," said Alyson Poling, Development Manager for the American Heart Association's Resuscitation Quality Improvement program, Great Rivers Affiliate. "In the past, hospital staff were required to attend a CPR class once every two years. Our science has proved that CPR skills decay occurs in as little as three months."
Hospital staff members practice their CPR skills at the point of care (on a hospital floor), using real-time audio-visual feedback in 10-minute sessions every 90 days to achieve and maintain high-quality skills. Healthcare providers using RQI report feeling more confident with their skills, and RQI Analytics prove that CPR quality is improved.
"We've been utilizing RQI for about two years and have seen an increase in confidence with our staff," said Carol Perlow, Director of Educational Services.
The RQI program has been developed through a unique collaboration between the Association and Laerdal Medical, wherein the Association provides expertise in evidence-based research and best-practice guidance, and Laerdal Medical provides proven simulation/learning technology.
Utilizing a variety of learning tools with an emphasis on skills mastery through low-dose, high-frequency sessions and performance feedback, the RQI program offers three components: cognitive, psychomotor skills and simulated patient cases.
Cognitive may involve interactive lectures, videos or web-based content and is targeted to specific provider groups within the hospital and in other healthcare settings.
Psychomotor Skills sessions monitor and report CQI metrics and equipment used in the healthcare setting, utilizing performance measurements completed within the healthcare facility's clinical units.