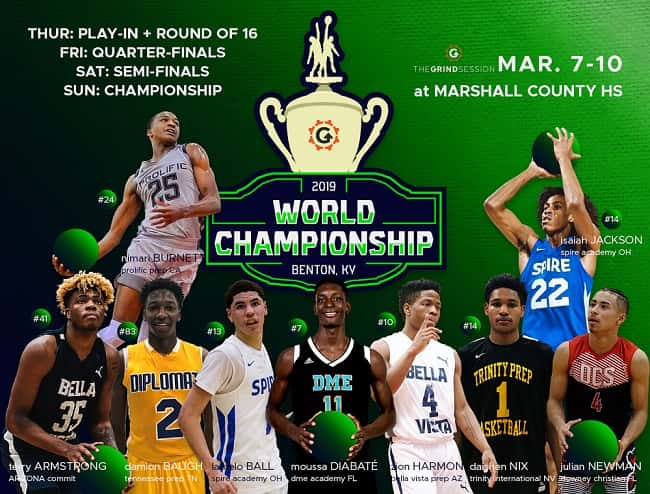 Some of the top high school teams in the nation will battle for the Grind Session World Championship, which will be played over a four-day span in Benton, KY at the historic Reed Conder Gymnasium. The field features 20 teams, 12 who received "at-large" bids and 8 who will play in the "First Four" to determine who will make up the Sweet Sixteen.
Among the players schedule to play in the event is #13 (ESPN) LaMelo Ball (Spire Academy), #41 (ESPN) senior Terry Armstrong (Bella Vista, Arizona commit), #1 point guard (#10 overall, 247Composite) Zion Harmon (Bella Vista), and internet sensation Julian Newman (Downey), among many others. The full bracket can be viewed on thegrindsession.com along with information on ticket purchases.
Spire Academy, Tennessee Prep, Prolific Prep, and Bella Vista Prep will each be matched with the winner of their respective First Four games. The Sweet Sixteen game times will be announced in the near future, while the championship is slated for Sunday, March 10 at 1:30.
The event lives up to its "World Championship" name, with nearly every team holding multiple international players. The field is made up of 93 international players from 81 different countries spanning across 5 continents and the Caribbean.
The Matchups: 
First Four 
9:00am Athens Prep (TN) v Potter's House Christian (FL)
10:30am Veritas Prep (CA) v Superior Collegiate (FL)
12:00 Hillcrest Prep North (AZ) v Downey Christian (FL)
1:30 Arizona Compass (AZ) v St. Louis Christian (MO)
Sweet Sixteen 
Spire Academy (OH) v Hillcrest North/Downey
The Rock (FL) v Trinity International (NV)
Tennessee Prep (TN) v AZ Compass/St. Louis
Our Saviour Lutheran (NY) v Victory Rock Prep (FL)
Prolific Prep (CA) v Athens/Potter's House
Minnesota Prep (MN) v DME Academy (FL)
Bella Vista Prep (AZ) v Veritas/Superior
West Oaks (FL) v Aspire Academy (KY)
Each team features numerous college prospects on their rosters, with each team featuring at least one player who holds a D-I offer. Listed below are some of the top players in the tournament.
#7 (all sources) Moussa Diabaté, DME Academy
#10 (247Composite) Zion Harmon, Bella Vista
#13 (ESPN) LaMelo Ball, Spire
#14 (ESPN) Isaiah Jackson, Spire
#14 (247Sports) Daishen Nix, Trinity International
#23 (ESPN) Addison Patterson, Bella Vista
#24 (ESPN) Nimari Burnett, Prolific Prep
#28 (ESPN) Zach Harvey, Prolific Prep
#29 (ESPN) Rocket Watts, Spire (Michigan State commit)
#34 (247Composite) Lynn Kidd, The Rock
#41 (ESPN) Terry Armstrong, Bella Vista (Arizona commit)
#44 (247Composite) Jordan Nesbitt, St. Louis Christian
#47 (ESPN) Posh Alexander, Our Saviour Lutheran #54 (ESPN) Chol Marial, AZ Compass
#83 (Rivals) Damion Baugh, Tennessee Prep
#96 (Rivals) Tyrell Jones, West Oaks (Auburn commit)
All the action can be seen live from The Grind Session on YouTube For the complete bracket and tickets, visit TheGrindSession.com The entire Grind Session circuit schedule, visit TheGrindSession.com Check us out on Twitter @thegrindsession and on Instagram @therealgrindsession and @tanagersports for more info!