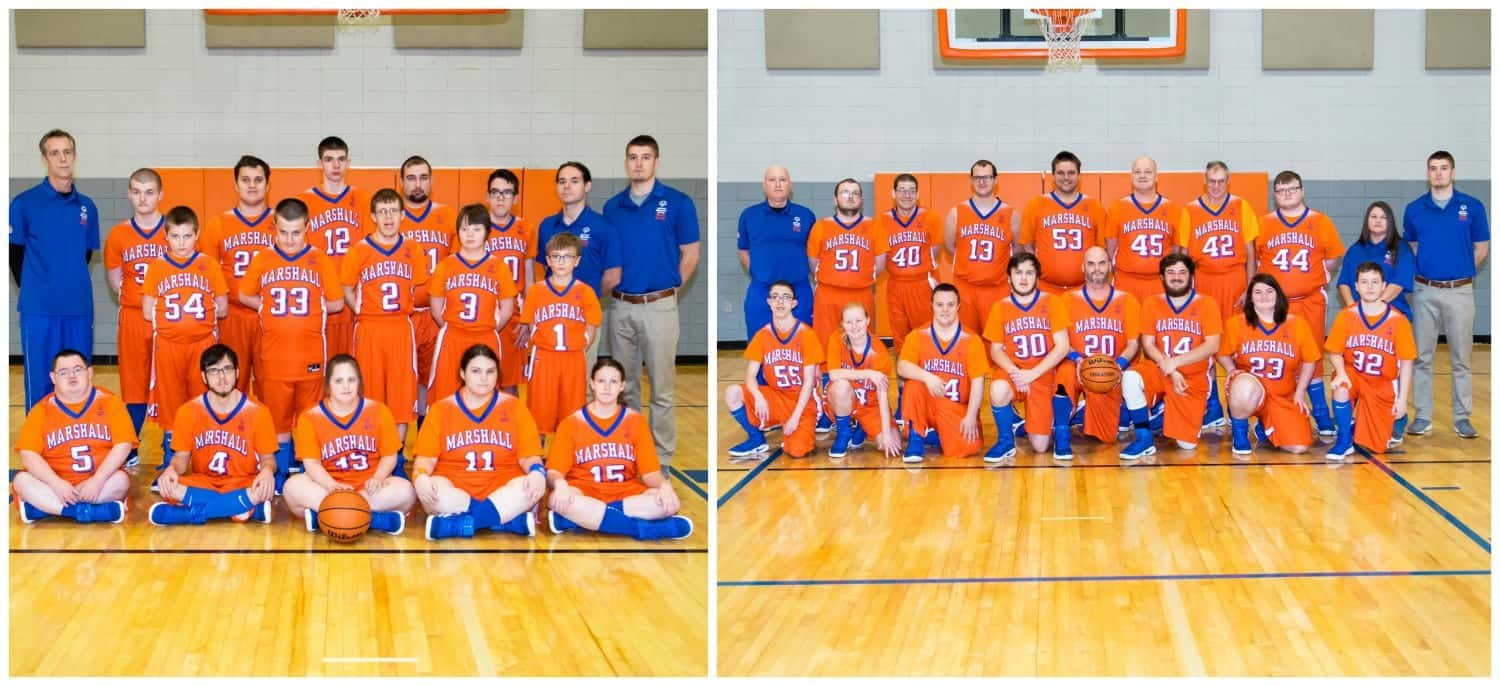 The Special Olympics State Basketball Tournament "March Magic" is next weekend March 9-10 at the MidAmerica Sports Center in Louisville. The Marshall County Special Olympics basketball teams will be two of 53 teams in the tournament. They will be sent off with a pep rally and clap out at Marshall County High School Friday, at 9:00 am before they leave for Louisville.
" We always go up on Friday, get checked in at the hotel, fellowship a little and get in the bed early." Coach Jonny Byrd said.  "Marshall 1 has a game Saturday morning against the Pillar Eagles starting at 9:00 am eastern time. That's always early for a basketball game, but we play games through the season that early so we're ready for this. Our coaches will have them ready."
Marshall 1 has moved up to compete in the Purple Division which is the fourth level of nine divisions this year in the B Team brackets. Pillar is a day program in Crestwood, Ky. in Oldham County just outside of Louisville.
Marshall 2 is the 1A Green defending State Champion and has also moved up a level to 1A Red this season.
"We expected to be moved up, we've been moved up four times in seven years", Byrd said. "Nobody in the state has a State Tournament record like the Marshals. We've been in a championship game the last five years, winning four, but it doesn't get any easier, it's actually harder."
And harder it is. The Marshals first game will be Saturday at 2:00 pm against the Stride Cardinals who were the 1A Red State Runner-Up last year.
"They've played in this Division and we're new to it, but our bunch has the experience just being at the State Tournament", Byrd said. "They're well coached, and fundamentally strong. They have several players that can cause you problems, especially big man Brendan Winkler who stands at about 6'8. He's probably the best center in the state and he plays like a seven footer. We're going to  have to contain him early. It's the State Tournament…it's not supposed to be easy, but our team is up to it and will give their best. Stride has a great reputation. They have been here a lot, and so have we so it should be a great game!"