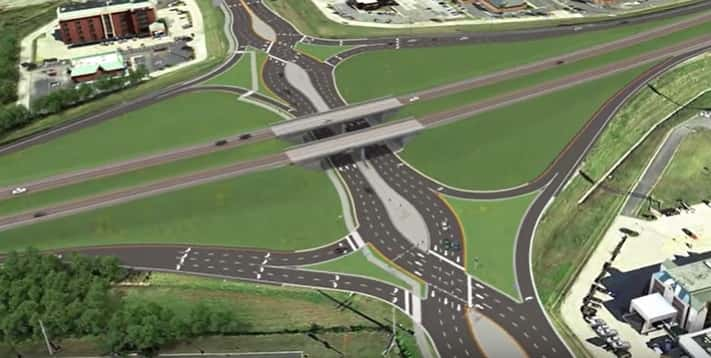 PADUCAH – A contractor for the Kentucky Transportation Cabinet (KYTC) is preparing to begin construction on a Double Crossover Diamond (DCD) interchange project along U.S. 60 at the Interstate 24 Exit 4 Paducah interchange (Ky. Oaks Mall exit) the week of March 4.
Studies have shown that a DCD provides an effective way to improve traffic flow and reduce crash rates. The traffic arrangement in a DCD helps to reduce delays by eliminating a phase at each traffic signal and reducing the number of left turns.
The DCD will help to increase through capacity along U.S. 60 through the commercial area west of the interchange, and will improve left turn movements from the I-24 ramps.
Construction signs are expected to go up this week, with work beginning the week of March 4. A barrier wall extending down the U.S. 60 center turn lane from Holt Road to the I-24 interchange will be installed first. This will allow left turns at signalized intersections only, and there will be no left turn from U.S. 60 eastbound to Holt Road northbound.
Initially, work will take place at night, though some daytime and weekend work may be required. Lane restrictions will be in place during working hours at various locations along the project. One lane will remain open at all times. Appropriate signage will be in place to guide motorists.
The Kentucky Transportation Cabinet asks motorists to be aware of the work zone and to utilize safe driving habits when traveling through the work area.
Jim Smith Contracting, of Grand Rivers, Ky., is the prime contractor on this $9,179,425 highway improvement project. Work is expected to be completed by November.
The four links below are YouTube videos of how the interchange will look when completed.
https://youtu.be/Q3R2l5GGfXo
https://youtu.be/K2VbHZ1xufs
https://youtu.be/x_7bpwgAa14
https://youtu.be/fbhxkTzcTLI