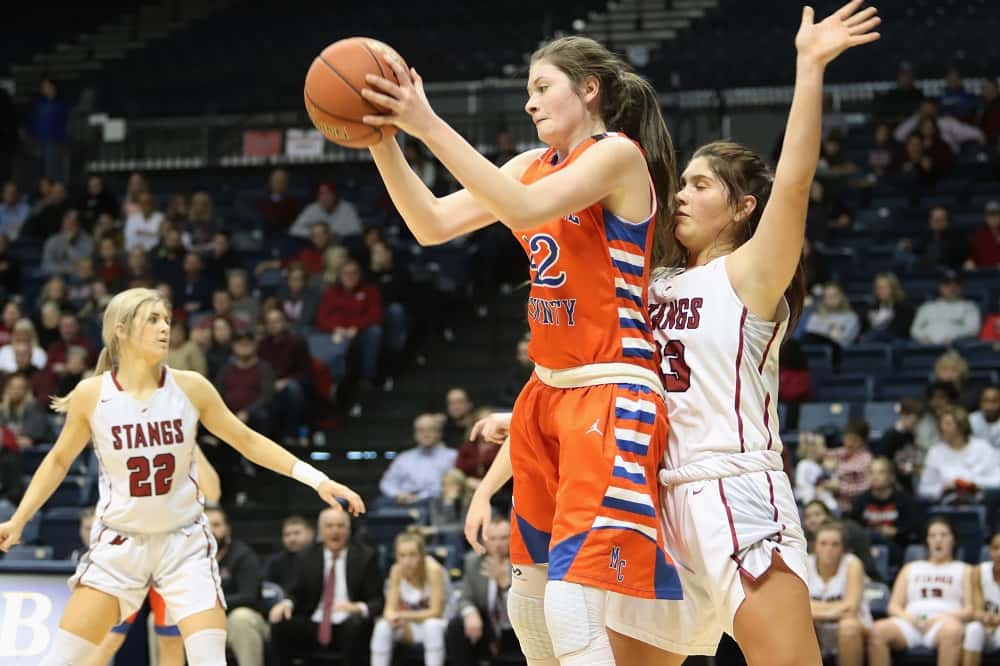 Marshall County girls beat McCracken County twice during the regular season, the first time by 44 points and the second by 21, but met a Lady Mustang team on Thursday that has steadily improved throughout the season, winning the 2nd District Championship over Paducah Tilghman.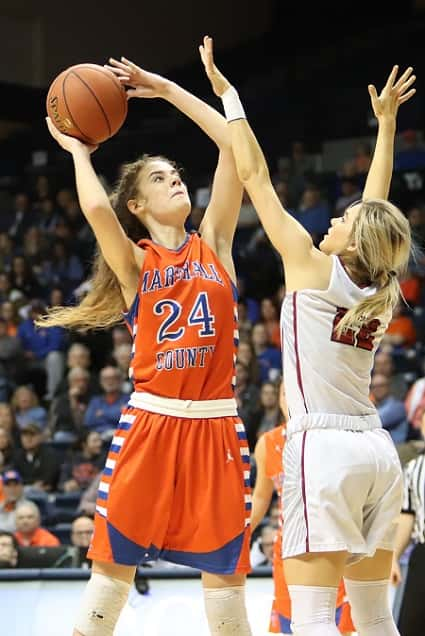 At the final buzzer, it was the Lady Marshals night to move on in a 61-43 win, the Lady Mustangs season ending at 18-14. Freshman Halle Langhi had a big night for the Lady Marshals, scoring 25 points and pulling in 18 rebounds while an even younger Caroline Sivills, just an eighth grader, led the Lady Mustangs with 15 points.
The Lady Marshals led 7-2 early before McCracken County pulled to within one on a basket by Sivills. Two points each from Lorin Powell and Presley Jezik stretched the lead back out to five points before an 8-0 run by the Lady Mustangs gave them a 14-11 lead. Langhi and Bethany Russell exchanged buckets with a final three by Langhi ending the first half on a 16-16 tie.
Marlee Morehead dropped in two free throws to start the second quarter on a two point lead for the Lady Mustangs, tied on two free throws from Langhi. Another by Langhi at the line put them up by one and the lead went to four points on a three by Tera Colson. The lead stretched to eight points on a wide open lay-in by Layne Pea and remained at eight on a basket by Powell near the end of the quarter. Sivills hit a three for McCracken County to end the half and cut the lead to five at 31-26.
Five points from McCracken's Meagan Hayden to start the third quarter tied the game at 31, but the Lady Marshals went on to score the next eight unanswered, highlighted by a long down-court pass from Colson to a wide-open Langhi for a 39-31 lead. Abby Ellington headed to the bench for the Lady Mustangs with her fourth foul that sent Powell to the line to give the Lady Marshals a 40-33 lead, their final 10 points of the quarter split between Powell and Langhi to lead 49-39.
The Lady Marshals held the Lady Mustangs to four fourth quarter points to win by 18. Ten of their 12 points in the quarter coming at the free throw line, six from Colson who was 8/9 at the line for the game.
They Lady Marshals will meet Graves County in the semi-finals, a 61-23 winner over Hickman County. That game will tip-off around 7:45 on Monday following the first semi-final game between Murray and Carlisle County at 6:00.
| | | | | |
| --- | --- | --- | --- | --- |
| |   1 |   2 |   3 |  Final |
| Marshall |  16 |  31 |  49 |   61 |
| McCracken |  16 |  26 |  39 |   43 |
Marshall: Langhi 25, Powell 12, Colson 11, Conner 6, Jezik 4, Pea 2, Lovett 1
McCracken: Sivills 15, Hayden 8, Ellington 7, Morehead 4, Daye 3, Rudy 2, Holmes 2, Russell 2
Marshall: TFG 19/46, 3PT 3/13, FT 20/29, REB 30, AST 14, PF 14, TO 8
McCracken: TFG 13/44, 3PT 3/9, FT 14/18, REB 28, AST 9, PF 18, TO 21