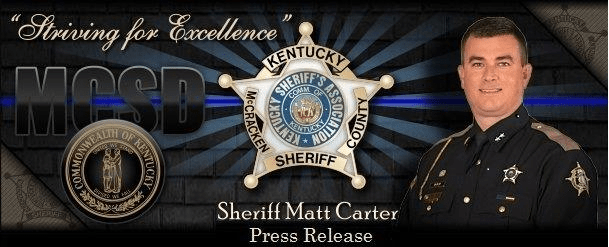 On February 6, 2019 detectives with the McCracken County Sheriff's Office began investigating alleged inappropriate communications between McCracken County High School teacher Daniel Edwards and a student. During the investigation, detectives learned that Edwards also had inappropriate communications with another student in
June or July of 2018. Detectives spoke with the former student and learned that Edwards had requested them to send him a naked photograph of themselves. The former student stated they had not had any recent communications with Edwards adding their only previous relationship was student/teacher and athlete/coach. The victim stated
the request for naked photographs was completely unsolicited.
The former student that was contacted during the summer of 2018 was willing and desired us to pursue charges on their behalf.
Detectives consulted with the county attorney's office and took out a charge against Edwards for Harassing Communications, a Class B Misdemeanor.
On February 22, 2019, detectives located Edwards on South 6th Street at which time he was also served the criminal summons at 12:07. Detectives, pursuant to a search warrant that had been obtained, seized evidence from Edwards as part of the investigation.
I communicated with McCracken County School Superintendent Brian Harper this afternoon and made him aware that charges were taken against Edwards. That notification was made to enable the school district to begin their internal investigation in which they were holding off starting per our request. That delay was requested to prevent our criminal investigation from inadvertently or possibly compromised.
Edwards is the teacher that has remained unnamed until this time due to no formal charges being taken or able to be taken until now. I felt this was appropriate as we do not release information or names on cases that are merely under investigation. If the investigation would have resulted in probable cause failing to be met and no charges taken, we would have been naming an individual that was not being charged in a criminal case. The McCracken County Sheriff's Office has not provided the name for anyone that has not been charged in any of these investigation.
I would like to reiterate that we work almost daily with so many great teachers and staff of the McCracken County School System. This incident, no different from any previous incidents, should in no way reflect negatively upon our system as a whole.
This investigation is ongoing.
I would also like to clarify the incident that has been brought to attention involving students having sexual contact in the McCracken County High School Library. When this incident first came up in late 2018, the McCracken County School Resource Officers apprised detectives with the McCracken County Sheriff's Office regarding the investigation. It was unequivocally determined through that investigation that NO sexual act occurred and the wide spread recording was of two students that had staged the incident to make those that saw the video believe a sexual act had occurred. After receiving multiple calls regarding this incident, the McCracken County Sheriff's Office also believes no criminal act occurred, from the information that detectives received and gathered. We have received multiple calls
concerning this incident and again, have confirmed no criminal act occurred and was handled administratively within the school. We did confirm with school officials that as a result of that hoax the decision was made to make alterations to the school library (shorten book shelves), preventing students from being able to be concealed as a precautionary.
CHARGES:
Edwards, Mark D. 29 years of age
Of Ohio Street
CHARGE:
Harassing Communications
Additional statements from the McCracken County Sheriff's Office from Sheriff Matt Carter:
Charges taken on Edwards are the result of an ongoing investigation and did not occur under the new Interim Principal's administration.
I want to be very clear that the charges on Edwards that were placed today were part of the ongoing investigation that started on February 6th, 2019, The allegations that led to charges being taken occurred prior to Interim High School Principles Administration.
The interim principal at the McCracken County High School is Ginger Stewart.