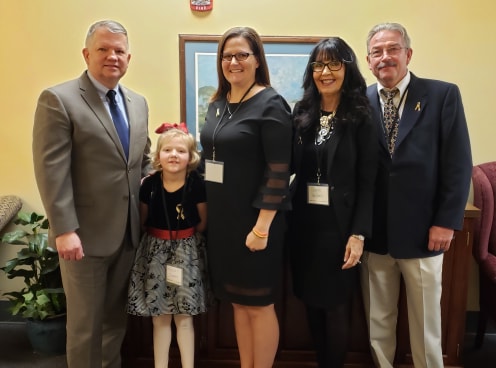 Kendall James, a first grade student at Central Elementary, represented Marshall County District 2 along with three other families from Western Kentucky, in Frankfort on Wednesday to meet with Senators and Representatives to advocate for Childhood Cancer Research and Awareness. Feb. 13 was Childhood Cancer Awareness Day.
Kendall met in private with Representative Chris Freeland and Senator Danny Carroll to talk about Childhood Cancer Research Funding. She also met Governor Matt Bevin and Senator Max Wise.
Senator Carroll recognized Kendall and her friends from Western Kentucky during General Assembly. Kendall had the opportunity to be on the floor and sit in Senator Carroll's Senate seat while the General Assembly was in session.
In Jan. 2017, Kendall was diagnosed with Rhabdomyosarcoma Stage 3 and following surgery, 43 weeks of chemotherapy and six weeks of radiation, Kendall is one year cancer free as of Jan. 2019.
The four families representing Western Kentucky were contacted by Gaylon Hayden with Book of Hope, who reached out to local families whose children have been fighting cancer, to be Advocates for Childhood Cancer Research and Awareness.
Kendall is the daughter of Shawn and Kendra James.