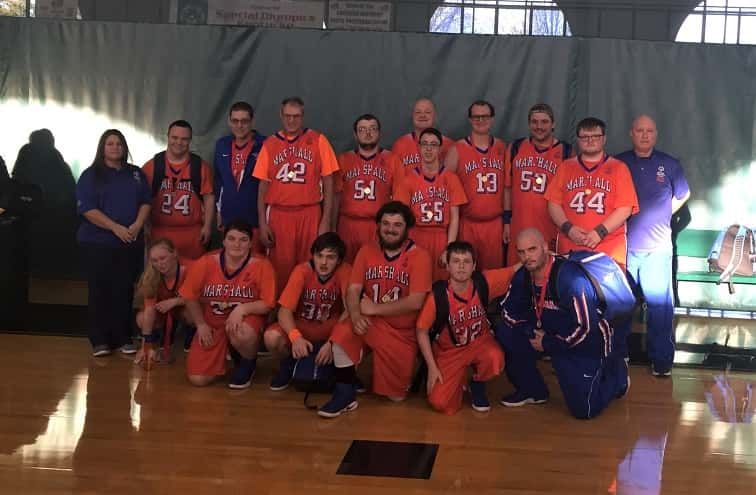 State Bound! A long day of basketball in Bowling Green proved to be successful for Marshall County Special Olympics. Both teams played at the same time splitting the fan base in two with Marshall 1 in one building playing the Christian County Tigers for the second time in two weeks.
Marshall 1 outscored the Tigers 24-16 to advance to the B Orange Division Region Championship. Marshall 1 played the Bowling Green Xpress shot for shot in a close one and had the last shot attempt that didn't go in, falling 14-11. Marshall 1 will advance to the State Tournament with a Silver Medal and a Runner-Up finish.
Marshall 2 was playing Ohio County in the other building in a barn burner. The Marshals were up by 10 points in the first half but Ohio County came out in the 2nd half in a 1-2-2 zone defense that stopped the dribble drive offense of the Marshals. With 10 seconds left to play, Ohio County hit a two point basket putting the Eagles on top 30-29. Marshall 2 called time out at the hash mark in back court, then hit Jimmy Lee Jackson at half court and he dribbled down the lane and made the basket with two seconds remaining to win 31-30.
In the second game Marshall 2 played Murray Blue who they just saw at Murray State Thursday night in an exhibition during half time of the Racers game. A very physical game all game long saw both teams fight for the lead. In the end the Marshals were on top 34-30, taking home their seventh Regional Championship in a row in four different divisions.
Both teams will now compete at the Special Olympics Kentucky "March Magic" State Basketball Tournament March 8-10 in Louisville.
"I'm very proud of our teams today…they never quit", Coach Jonny Bryd said. "They prepared hard and played hard. A very special thanks to our Marshall 1 Coaches Matt Fountain and Noah Steele, our parents, and Marshall 2 team manager Lorie Byrd."