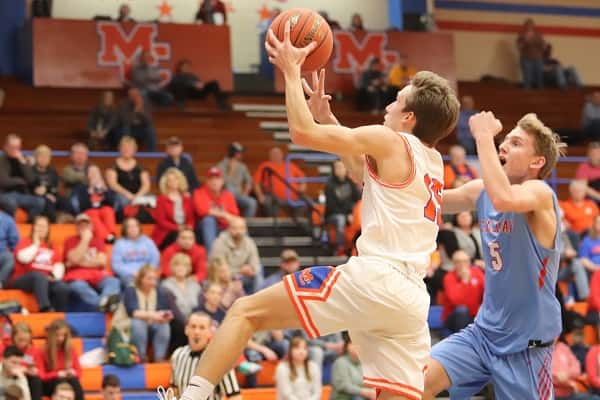 Head Coach Terry Birdsong thought his team did a lot of good things against Calloway County and in stretches played as well as they have all season. They didn't finish it off like they wanted to, but overall a good team win. The Marshals let a 15-point lead close to six points with 1:36 remaining in the game but held on to win 56-50.
Down by four in the first quarter, the Marshals got a lift off the bench from Chase Riley who dropped in a three before the buzzer to cut Calloway's lead to 8-7. Tyler Stokes' basket to start the second quarter gave the Marshals their first lead of the game and they extended their lead at halftime to 28-18 behind eight points from Bryce Flatt in the quarter, finishing off with two threes from Jay Nimmo and a nice steal and lay-in by Chase Riley.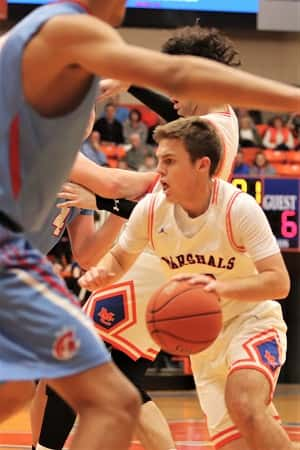 Ki Franklin buried a three for the Lakers to cut the Marshals lead to 29-23 in the third quarter answered with a three from Austin Riley to stretch it back out to nine points on their way to lead by 15 heading into the fourth quarter.
Calloway's Cade Butler played a big role in closing the Marshals lead in the fourth quarter, opening with the first four points to cut it to nine. Butler hit four straight at the free throw line after drawing fouls then followed a steal and basket by Nimmo with a three and two more free throws to cut the Marshals led to six.
Free throws from Tyler Powell were followed at the other end by a three from Kade Mize with 27.1 seconds left in the game. Two free throws from Nimmo preceded two more from Butler who was a perfect 10 for 10 at the line. Nimmo was fouled again, making both for a 54-47 lead but the Lakers weren't done, getting a three from Jackson Chapman with 5.4 left on the clock. The final points coming on two free throws from Powell for the six-point win.
Nimmo led the Marshals in the win with 15 points followed by three players in double figures with 11 that included Powell, Stokes and Flatt. Butler led Calloway with 15 points followed by Mize with 13. Both team shot well from the free throw line, Calloway just one from a perfect night going 16/17 while the Marshals were 16/20.
The Marshals are still in the hunt for the number one seed in the district tournament after Friday's game but will have to finish off Murray with a win on Sunday, a game postponed from Tuesday with 1:11 left in the first quarter. The game is scheduled for 2:00 at Murray.
| | | | | |
| --- | --- | --- | --- | --- |
| |   1 |   2 |   3 |  Final |
| Calloway |   8 |  28 |  27 |   50 |
| Marshall |   7 |  20 |  42 |   56 |
Calloway: Butler 15, Mize 13, Franklin 9, Steele 8, Chapman 3, Rogers 2
Marshall: Nimmo 15, Powell 11, Stokes 11, Flatt 11, C. Riley 5, A. Riley 3
Calloway: TFG 15/38, 3PT 4/12, FT 16/17, REB 23, TO 3, PF 16
Marshall: TFG 17/40, 3PT 6/16, FT 16/20, REB 24, TO 8, PF 16