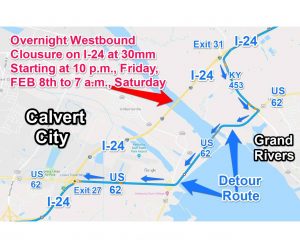 A contractor for the Kentucky Transportation Cabinet plans an OVERNIGHT closure of the WESTBOUND lanes of Interstate 24 on Friday, February 8, 2019.
The WESTBOUND lanes of I-24 will be closed to allow a concrete pour for installation of new joints on the I-24 Tennessee River Bridge at the 3…0 mile marker near Calvert City. The WESTBOUND lanes of I-24 will be closed and traffic detoured starting at about 10:00 p.m., CST, Friday, continuing to approximately 7:00 a.m., CST, on Saturday, February 9th.
WESTBOUND traffic will detour via the KY 453 Grand Rivers Exit 31 Interchange, then take KY 453 southbound to US 62 westbound to return to I-24 at the US 62 Calvert City Exit 27 Interchange
There should be no impact on eastbound traffic in the work zone during this closure of the westbound lanes of I-24 at the 30 mile marker Friday night into Saturday morning.
This WESTBOUND closure of I-24 on Friday night is the second of about 4 overnight closures that will be required to facilitate installation of new joints on I-24 Tennessee River Bridge.
American Contracting & Services of Jeffersonville, IN, is the prime contractor on this $1.1 Million bridge joint replacement project.
As a reminder, both eastbound and westbound traffic on I-24 remain restricted to one lane in this work zone.
The Interstate 24 Tennessee River Bridge consists of twin tied arch suspension structures at I-24 mile point 29.352 at the Marshall-Livingston County Line.
The 2,017 ft. structures with a 534 ft. main span are also known as the Luther Draffen Bridge. The I-24 Tennessee River Bridge opened to traffic in 1974. The bridge carries approximately 30,000 vehicles across the Tennessee River in an average day.