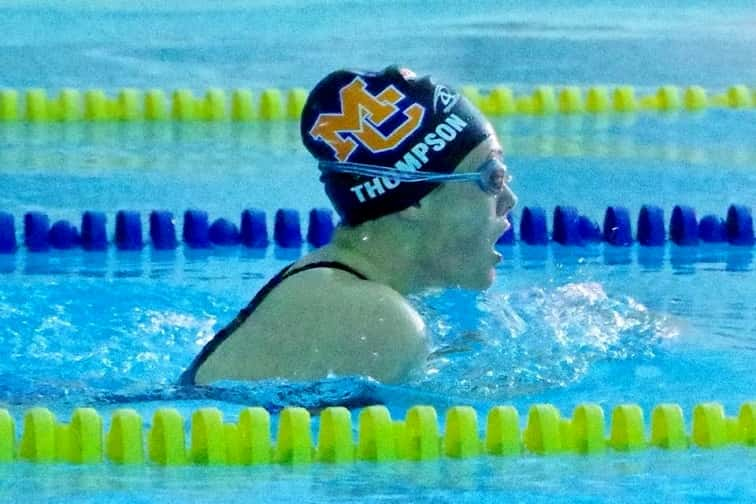 The Marshall County swim team competed in the Nofsinger Invitational in Madisonville Thursday, their sixth meet of the season with one left on Jan. 21 in Paducah before Regionals on Feb. 8-9. In combined scoring, the team placed second overall behind first place Madisonville-North Hopkins among a field of seven teams.
Top individual finishes for the team came from Nikalai Bryan with a first in the 100 yard butterfly (1:13.09), Mary Grace Thompson first in the 100 yard freestyle (1:02.01) and second in the 50 yard freestyle (28.01) and Delaney Miller second in the 100 yard butterfly (1:10.05).
Five relay teams placed second including the girls and boys 200 yard medley relay, the girls 200 yard freestyle relay and the girls and boys 400 yard freestyle relay. Several swimmers recorded personal best times at Madisonville.
Marshall County results from Madisonville:
| | | |
| --- | --- | --- |
| GIRLS | | |
| 200 medley relay | 2nd | Erbacher, Siress, Miller, Thompson |
| 200 freestyle | 5th | Kaylee Adamson |
| 200 IM | 4th | Maidie Siress |
| | 5th | Gabby Gibbs |
| 50 freestyle | 2nd | Mary Grace Thompson |
| | 9th | Chelsea Erbacher |
| | 18th | Scarlett Wilkey |
| 100 butterfly | 2nd | Delaney Miller |
| | 4th | Gabby Gibbs |
| 100 freestyle | 1st | Mary Grace Thompson |
| | 13th | Whitney Phillips |
| | 14th | Maidie Goins |
| 200 free relay | 2nd | Miller, Siress, Erbacher, Thompson |
| 100 yard backstroke | 3rd | Chelsea Erbacher |
| | 6th | Maidie Siress |
| | 7th | Jaden Topper |
| 100 breaststroke | 6th | Delaney Miller |
| | 7th | Scarlett Wilkey |
| 400 free relay | 2nd | Thompson, Dittman, Pugh, Chambers |
| BOYS | | |
| 200 medley relay | 2nd | Armstrong, Hall, Bryan, Moshure |
| 50 freestyle | 5th | Jason Sheridan |
| | 6th | Wyatt Moshure |
| | 7th | Cameron Armstron |
| 100 butterfly | 1st | Nikalai Bryan |
| | 5th | Kyle Hall |
| 100 freestyle | 3rd | Wyatt Moshure |
| | 4th | Andrew Wilson |
| | 5th | Jason Sheridan |
| 200 free relay | 4th | Wilson, Bryan, Hall, Sheridan |
| 100 backstroke | 4th | Nikalai Bryan |
| | 5th | Cameron Armstrong |
| | 6th | Ethan Delaney |
| 100 breaststroke | 3rd | Andrew Wilson |
| | 5th | Kyle Hall |
| | 11th | Skyler Winsett |
| 400 free relay | 2nd | Wilson, Sheridan, Armstrong, Moshsure |