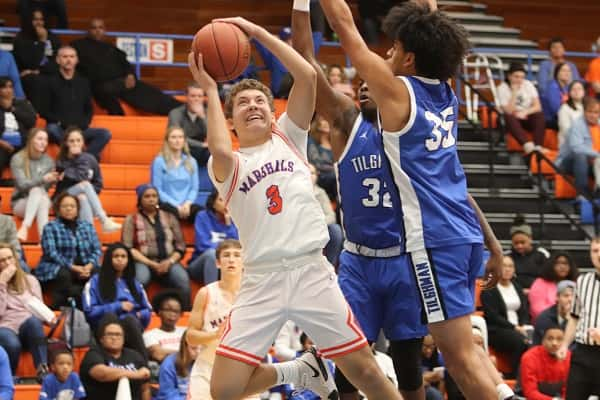 Bryce Flatt put the Marshals on the board first, tied by Tilghman's Tyus White and from there the Tornados were off and running, leading by as many as 13 points in the first quarter, cut back to eight after Tyler Powell finished the quarter off with five points on a basket drawing a foul, free throws from the foul and technical foul.
Tilghman scored the first eight points of the second quarter to stretch their lead out to 16 points before Tyler Stokes stopped the run with a basket, drawing the foul and making the free throw. Those five points were wiped out on a three by Rodriquez Thomas and bucket by Cedric Davis for a 32-14 Tornado lead. Stokes, Flatt and Dawson Smothers combined for the next nine Marshall County points to trail 39-23 at halftime.
Powell opened the second half with a three and the Marshals held Tilghman to zero points in the third quarter until the 2:06 mark but unable to make any headway in the Tornados lead, in part due to turnovers. In the final two minutes of the quarter, Tilghman out-scored the Marshals 11-3 to lead 50-31 going into the fourth quarter.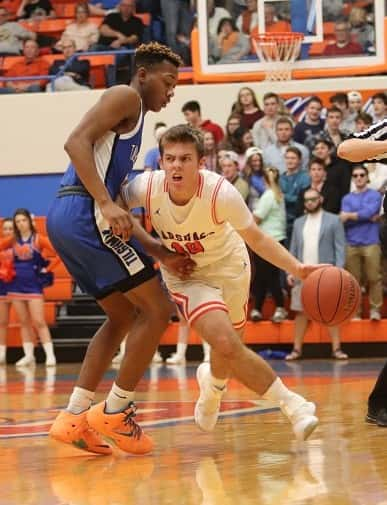 The Marshals out-scored Tilghman by three points in the fourth quarter, led by Flatt with six points and Powell with five. Eleven of Tilghman's 13 fourth quarter points came from Avery Strayhorn with six and five from White to win by 16.
"This team just leaves us scratching our heads sometimes", Head Coach Terry Birdsong said in post-game comments. "We do things in games that we just don't know where it comes from." Adding he didn't think the team made smart decisions at times, especially on inbound plays against the quick Tilghman team.
A frustrated Birdsong said his team needs to find leadership, something they are lacking within the team, adding "The staff puts in a lot of time scouting and watching film to prepare. Our job is to figure it out and we will, but we may have to make some changes."
Marshall County (8-9) will have their hands full Friday when they head to Graves County (12-4) to play the Eagles who beat McCracken County 67-56 Tuesday and Tilghman by 14 points in December.
It was Senior Night Tuesday at Reed Conder Gymnasium. Senior team managers Leighton Solomon and Cameron Wiles were honored before the game. There are no senior players on this year's team.
| | | | | |
| --- | --- | --- | --- | --- |
| |   1 |   2 |   3 |  Final |
| Marshall |  11 |  23 |  31 |   47 |
| Tilghman |  19 |  39 |  50 |   63 |
Marshall: B. Flatt 15, Powell 13, Stokes 13, Smothers 4, C. Flatt 2
Tilghman: White 20, Laster 9, Joyce 9, Strayhorn 8, Carruthers 6, Concentine 5, Thomas 4, Davis 2
Marshall: TFG 18/42, 3PT 2/12, FT 9/15, PF 13, REB 24, TO 9
Tilghman: TFG 25/45, 3PT 7/12, FT 6/10, PF 14, REB 22, TO 8