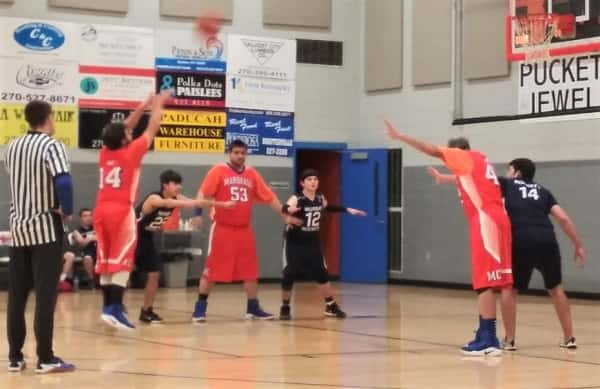 Jimmy Lee Jackson and Hunter Morrison helped lead Marshall County Special Olympics Marshall 2 team at Hopkins County.
The 1A team of Marshall County Special Olympics Marshall 2 traveled to Dawson Springs Sunday Jan.6 to play a doubleheader against Hopkins County.
In game one, Marshall County jumped out early 14-6 at halftime lead by 8 points from Hunter Morrison. In the second half, the defense of the Marshals led to layups on the offensive end by Jimmy Lee Jackson which was too much for Hopkins County in the Marshall County 25-13 win.
Marshall County scoring; Hunter Morrison 8, Jimmy Lee Jackson 7, George Navarre, Dave Chumbler, Evan Miller, Aaron Morrison, and Ryan Morrison 2 points each.
Game two was much closer. Hopkins County's size was a factor going inside to big men Webster Rice and Andrew Moore who each had four points. The Marshals traded baskets in the first half with clutch shots from Cheyenne Byrd, George Navarre and Hunter Morrison to lead 13-11 at halftime. It took a group effort in the second half by the Marshal's Travis Hicks, Mason Tatumn, Debra Desaultles and Heath Mann coming off the bench to help the Marshals keep it close.
Hopkins County scored six points in the third quarter to Marshall County's four points, but it was the play in the fourth quarter by Aaron Morrison, Ryan Morrison, and Jimmy Lee Jackson inside to hold Hopkins County to just two points to give Marshall County the 22-19 win.
Several players got involved in scoring;  Hunter Morrison 7, George Navarre 4, Aaron Morrison 3, Cheyenne Byrd, Jimmy Lee Jackson, Dave Chumbler and Ryan Morrison each with 2
Marshall 2 will be off until Jan.17 when they will play a rematch with the Murray Rockets blue team that beat the Marshals 26-20 Jan. 3.