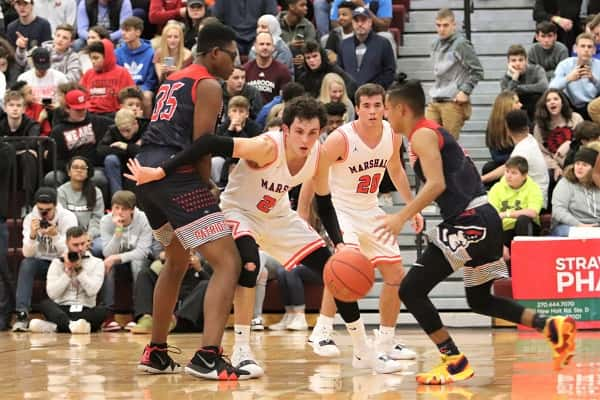 Marshall County played Downey Christian from Orlando, FL in Saturday's evening session of The Grind Session's Mustang Madness. The crowd was there to see Julian Newman, the YouTube sensation who has been in the national spotlight for his basketball skills since the age of 8, but Newman's teammates Emmanuel Maldonado and Eduardo Peralta stood out Friday night on the Patriots team. Newman began playing varsity basketball at the age of 11 and holds the record for being the youngest high school player to reach 1,000 points. His dad Jamie, is head coach of Downey Christian.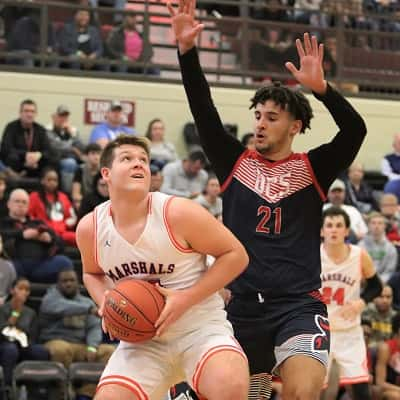 Downey Christian won 76-68 but the Marshals made them earn it, keeping the game close and even leading 14-13 at the end of the first quarter after trailing 7-0 to start the game. Their first lead came at 12-11 following a three from Bryce Flatt and basket from Tyler Powell.
Tyler Stokes scored to start the second quarter on a three point Marshall County lead before it swung back in favor of the Patriots on two straight baskets from Newman including an NBA length 3-pointer to lead 18-16 . A three from Stokes and basket from Powell put the Marshals back up by three before a 7-0 run by Downey Christian put the Patriots on top by four. Stokes cut the lead back to two points on two free throws but they ended the half down 37-30.
Marshall County scored the first five points of the second half on a three by Chase Riley and field goal by Stokes to cut the Patriots lead to two and they would get as close as one point at 44-43 before Downey Christian finished out the third quarter out-scoring the Marshals 17 -6, 11 of the 17 coming from Carlos Felix to lead 61-49.
The Marshals closed to within seven points three times in the fourth quarter and with 1:50 remaining, they closed to within five points on two straight baskets by Stokes. Newman hit two free throws with 41 seconds to go to push the lead back to seven with a final free throw for the eight point win coming from Felix.
Stokes led the Marshals with 24 points, Flatt had 19 and Powell 15. Sophomore Maldonado led Downey Christian with 21 points earning MVP honors. Peralta had 19 big points in the paint for the Patriots.
| | | | | |
| --- | --- | --- | --- | --- |
| |   1 |   2 |   3 |  Final |
| Marshall |  14 |  30 |  49 |   68 |
| Downey Christian |  13 |  37 |  61 |   76 |
Marshall: Stokes 24, Flatt 19, Powell 15, Nimmo 7, C. Riley 3
Downey Christian: Maldonado 21, Peralta 19, Felix 16, Newman 13, Palmer 4, Valdez 3
Marshall: FG 55%, REB 20, AST 17
Downey Christian: FG 44%, REB 30, AST 9