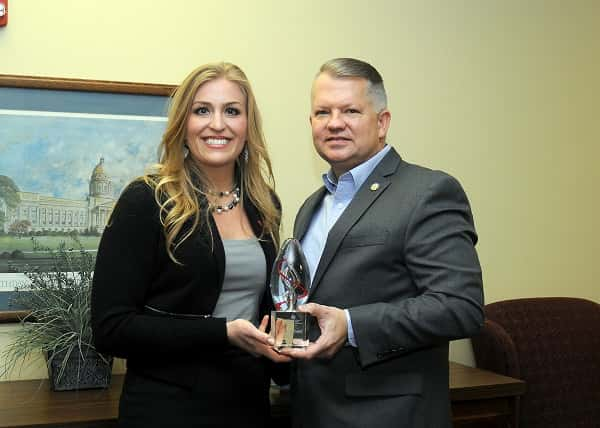 FRANKFORT, Ky. – Last month, Senator Danny Carroll (R-Paducah) was presented with the American Heart Association's 2018 You're the Cure Heart Hero Award for his efforts in passing Senate Bill 142 during the 2018 General Assembly.
On Thursday, December 16, representatives from the American Heart Association presented Senator Danny Carroll of Paducah with the American Heart Association's 2018 You're the Cure Heart Hero Award. The award was given to Senator Carroll for championing Senate Bill 142, the telephone CPR bill.
Senate Bill 142, which passed during the 2018 legislative session requires Kentucky 9-1-1 operators who provide emergency medical dispatch services be trained in providing high-quality "telephone cardiopulmonary resuscitation" (T-CPR) and be able
to provide detailed instructions over the phone to someone assisting a victim during out-of-hospital cardiac arrest.
Supported by the American Heart Association, T-CPR means the dispatcher and the caller essentially work together as a team, creating a better chance of survival for the victim until rescuers arrive. "It was an honor working with the American Heart
Association to get SB 142 signed into law. Their commitment to the heart health and safety of our citizens is unwavering and I believe this legislation will lead to lives saved in our great Commonwealth," said Senator Carroll.
"Senator Carroll has been a great advocate and leader for this issue," said Shannon Smith, Government Relations Director with the American Heart Association. "As a result, patients suffering cardiac arrest can receive lifesaving instructions from the 911 dispatcher."
Cardiac arrest is a leading cause of death in the U.S., and nearly 336,000 people experience cardiac arrest outside of a hospital each year. Unfortunately, nearly 90% of cardiac arrest victims do not survive mostly because they don't receive timely CPR. When properly performed, CPR can double or triple a person's chance of survival.
For more information, visit yourethecure.org.