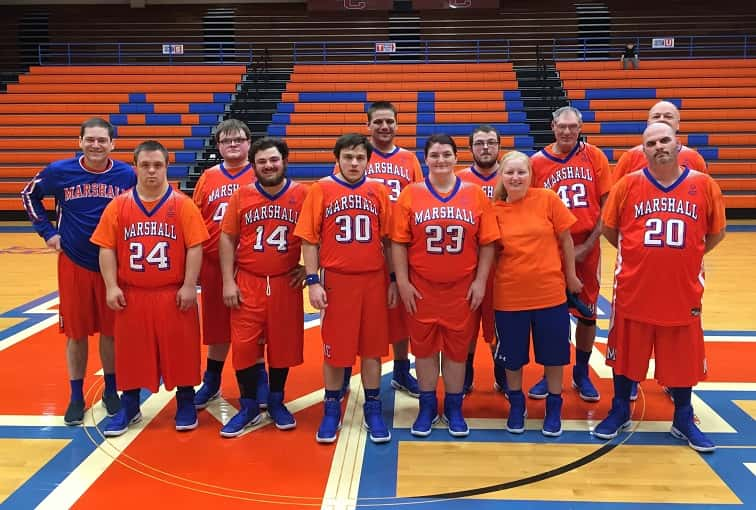 The Marshall County Special Olympics basketball teams were in action Dec. 15, hosting their 7th annual Holiday Jam Christmas Tournament with 18 teams from Western Kentucky and Southern Illinois competing in 26 games. The day started with Marshall 1 in a loss to tournament runner-up McCracken County Stars 29-16 led by Edward Burkeen with 12 points.
In their second game Marshall 1 faced the McCracken County Stallions, winning a close one 16-12 with Burkeen again adding eight points and Daniel Austin with four points. Marshall 1 recorded their second win of the day by forfeit from the Christian County Tigers who had to leave, which put them in the consolation bracket playing in the third place game against regional powerhouse Caldwell County who beat a tough Murray Rockets White team 38-17.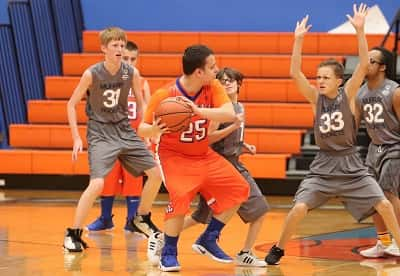 With a long day behind them, the Marshall 1 team still put on an even scoring show against the Tigers with five players scoring including Daniel Austin 6 points, Zach Haskins 4, Edward Burkeen 3, and Xander Wolf and Kane Hicks both with two points to keep the game close, but the strong Tigers with even scoring of their own rallied to win 29-17 to win 3rd place. The winners bracket Championship game was the last game of the day with the McCracken County Stars losing a close one to Trigg County 22-19.
In the 1A bracket, the competition was just as tough. Defending 1A Green State Champion Marshall 2 had to play the Progress Port Smashers from Carterville, IL., the Illinois defending 1A State Champion. In a very close first half, Marshall 2 lost their leading scorer from last year, James Davio to injury, and the Smashers went into halftime leading 16-11. With Davio out, Coach Jonny Byrd told the team someone had to step up. That someone was Jimmy Lee Jackson, first year player for the Marshall 2.
Coming in for Davio, Jackson scored six points before half and in the second half, led the team with big plays adding 10 points. Jackson, a big body at 6'4″, could not be stopped around the rim. Teammate George Navarre added seven points, four coming in the second half. The Marshals defense was too much for the Smashers late and with the Smasher's leading scorer #54 Torrence fouling out with 11 points, the Marshal's were able to concentrate on one of Illinois' best players #32 Harley holding him to 14 points to win a close one at the end 29-27.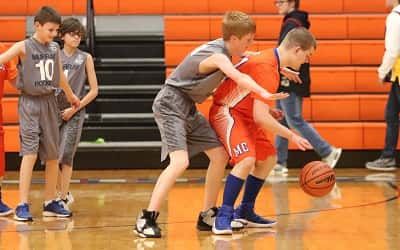 Marshall 2 stayed in the winners bracket and played another close game against the Owensboro Giants with an overall team effort from George Navarre with six points, and Aaron Morrison, Hunter Morrison and Jimmy Lee Jackson all with four points each while Jacob Dunn and Dave Chumbler added two each, to stop a very good Blasters team 22-18.
This win put Marshall 2 and the Eagles of Christian County, defending Kentucky State 1A Red Champion, together for the Tournament Championship.
"Every time, every year we play Christian, it's a battle", Coach Jonny Byrd said. "Coach Henson is one of the best! He will have his team ready. I was hoping we'd meet because it's a test early for us."
And a test it was. The first half Marshall came out slow in their third game of the day versus Christians' second game. Nothing went right for the Marshall team and Christian County hit everything they threw up, outscoring Marshall 15-2. In the second half, the Marshals came out with an attitude and a defense from Hunter Morrison and Jacob Dunn which turned into points, 21 to be exact. Morrison's defense turned into 10 points for him with Dunn adding three, Jimmy Lee Jackson had six, with Aaron Morrison and Dave Chumbler two each. With the game tied 23-23 Christian County hit a big 3-pointer to win the game 26-23 for the tournament Championship.
I'm very proud of our teams today and all the teams that came", Byrd said. "I think today was a good day of basketball. The next game for Marshall 1 will be Dec. 18 against Trigg County, then the teams will be off until the New Year. The next tournament at Marshall County will be Feb. 2 in the "Winter Blast" held at Marshall County High School."
Marshall County team rosters:
| | |
| --- | --- |
| Marshall 1 | Marshall 2 |
| #11 Jennifer Irvan | #54 Cheyenne Byrd |
| #2 Edward Burkeen | #20 George Navarre |
| #41 Jacob Cox | #12 James Davio |
| #31 Daniel Austin | #45 Evan Miller |
| #35 Kali Fountain | #44 Aaron Morrison |
| #15 Staci Duncan | #30 Hunter Morrison |
| #5 Chris Capone | #14 Jacob Dunn |
| #3 Harli Hanisch | #53 Jimmy Lee Jackson |
| #10 Jamon Butler | #51 Ryan Morrison |
| #1 Dylan Emmerson | #24 Travis Hicks |
| #54 Jacob Hart | #55 Mason Tatumn |
| #12 Kane Hicks | #42 Dave Chumbler |
| #25 Zach Haskins | #23 Debra DeSautles |
| #33 Xander Wolfe | #40 Heath Mann |
| Coach Matt Fountain | Coach Jonny Byrd |