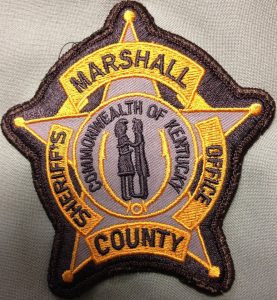 On 12/05/2018 Deputy Cory Curtner was dispatched to the 48 mile marker of Purchase Parkway in reference to two subjects walking on a limited access highway. Upon contact Deputy Curtner observed one of the subjects drop a bag. Upon further investigation it was determined that the bag contained a medication bottle, a small baggie of methamphetamine, and six syringes. It was determined that the items located belong to both subjects. Deputy Curtner arrested Cory West of Hardin, and Brenda Ahart of Hardin for possession of a controlled substance 1st degree, and drug paraphernalia.
On December 6th we received a call from a resident in the Possum Trot area reporting that her three dogs had went missing. The dogs are described as a Rottweiler, a Pit/Rottweiler mix brindle in color and a lab min white with brown markings. The owner of the dogs reported them to be friendly. If anyone in the Possum Trot/ Calvert City area sees any dogs matching this description please contact the Sheriff Office or Contact Central Dispatch after hours.
On Monday December 10th Sgt. Tim Reynolds was dispatched to Dunn Cemetery Road in reference to a disturbance. Upon contact with the victim, deputies were informed of an assault that had taken place prior to their arrival and the subject had fled on foot. With the help of the Marshall County K-9 Jeremy D. Wynn 34, of Benton, was located nearby in the woods. Wynn was placed under arrest and charged with Assault 4th Degree (Domestic) 3rd Offense or Greater within 5 years and Fleeing or Evading Police 1st Degree. Wynn was lodged in the Marshall County Detention.