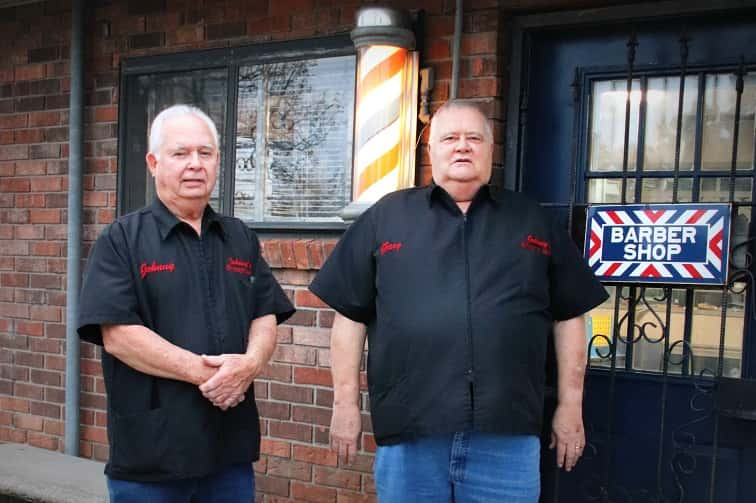 On December 22, Johnny Sutherland and Gary Stegall will hang up their clippers and close the door on 46 years at Johnny's Barbershop. The shop has become a common thread of our community, where just walking in the door feels like going to see family. A place where talk ranges anywhere from sports to politics, where you run into folks you haven't seen in a while and leave with a fresh cut, a smile and a piece of bubble gum in your pocket.
Generations have walked through the doors at Johnny's Barbershop, both saying they have many customers who are fourth generation and Johnny has cut five generations of one family. For Johnny, he's been cutting hair much longer than 46 years.
"A lot of my friend's hair I cut before I got my license when I was in grade school, and a lot I'm still cutting", Johnny said. "I started when I was 11. I sat them in an old straight back chair outside and put a towel around them then ran a cord in the window…plugged my clippers up…and they gave me 50 cents. Then we all had enough money to go to the show."
Johnny said there's about eight or nine of them whose hair he still cuts and he jokingly tells them, "they don't know what a good barber is because they've never been anywhere else".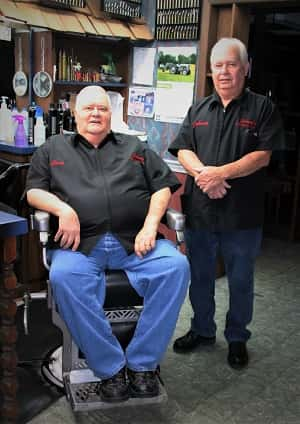 Johnny began cutting hair at the current location in 1972 and said Gary came in one day and asked for a job while he was still in barber college. Johnny told him he could come to work when he finished college to which Gary added, "it was March 7, 1972 and I took my board and passed it and came to work here at 2:00 p.m. that day."
"I remember the first guy I cut", Gary said. "I wasn't that experienced in flat tops and I cut a flat top and the old man knew I was new. About six months later, he came in one day and I was doing a little bit better job and I told him…this one's on the house."
A cut at Johnny's in 1972 was $1.75, but the day Gary began, they went to $2.00 and today it's still a good deal at $14 a cut.
The two have seen and heard a lot in their 46 years at the barbershop, located on the corner of Hwy. 68 and Griggstown Road near Draffenville.
"There's been three people killed right out there on the road in front of the shop", Gary said, adding that one died right in there…pointing to the waiting area. "We moved that table and laid her right on the floor. She told us how to get a hold of her husband, then all of a sudden felt really sick and passed. It was back before seat belts and the steering wheel hit her in the chest and damaged her liver."
They have no idea how many they've cut over the 46 years at the shop or the amount of bubble gum given out. The sign announcing their closing went up on Thanksgiving day.
"The Tuesday before Thanksgiving, we cut 90 heads that day and 77 on Wednesday", Gary said.
Many are stopping by to tell Johnny and Gary how much they are appreciated, what they have meant to the community and how they will be missed …which has caught the two a little off-guard.
"We knew we had a lot of customers, but we didn't know we had a lot of friends like that", Johnny said. "It's about like everybody coming to your funeral and we're not dead. They come around and shake our hands and hug us…carrying on and making pictures."
The closing of Johnny's Barbershop marks the end of an era here in Marshall County, but not an end to the trade of barbering. According to a Forbes report in July 2017, there is currently a boom in barbershops, especially in metropolitan areas.
Johnny said for now, the building will sit empty. A building he did all the work on from constructing the cutting areas to covering the chairs. Johnny said if it needed to be done, he found a way to do it himself.
"I'm going to really miss the customers", Gary said. "We want to thank them for their patronage and their friendships and all the memories."
Johnny said they've enjoyed every minute of their 46 years at the shop adding, "It's not cutting the hair…it's all the customers. I'm 75…he's 72 and everything is winding down in life."