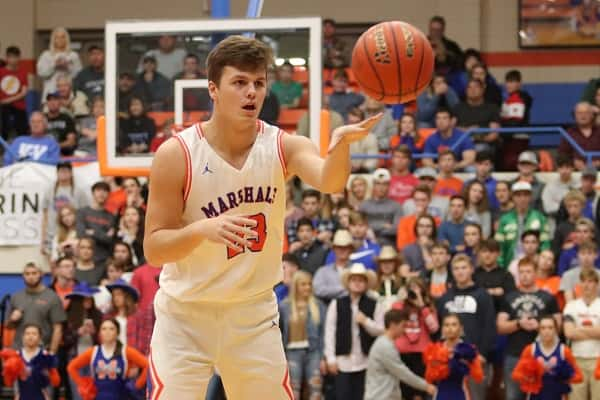 Marshall County's Freshman, JV and Varsity boys played a triple-header at Carlisle County Tuesday. The Freshman Marshals won 33-31 and the JV team won 46-23 before the Varsity squad took the floor in a four-quarter battle with the Comets, coming out on top 68-56.
Austin Riley got the scoring going followed by four straight points from Tyler Stokes for a 6-0 Marshall County lead. The Comets cut it to three points before a 3-pointer by Jay Nimmo put the Marshals back up by six. The game was tied at 12 on a basket by sophomore Blake Elder, a basket by Matthew Wooten was followed by free throws from Elder to tie at 14 and it was Wooten again to finish the first quarter with a 16-14 lead.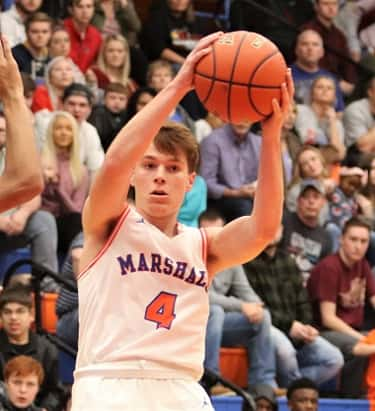 Riley again, opening the second quarter with a couple of free throws to put the Marshals back up by four. The Marshals took their largest lead of eight points in the half at 33-25, but fouls gave the Comets a chance to pull back the lead to five points, getting a final shot before the buzzer by Daven McGee to cut the Marshals halftime lead to 37-34.
Stokes had 14 points in the first half and six each came from Bryce Flatt, Riley and Wooten. Carlisle County was led by Reese Anderson with nine.
Anderson opened the half with a three that tied the game at 37, Stokes put the Marshals back up by two, tied again on a basket by Trey Wilson which set up a quarter of nine lead changes. Fouls crept up on the Marshals with Wooten on the bench with four, Flatt, Riley and Powell with three. The final lead change of the quarter fell to Carlisle County on a basket by Elder to put the Comets up 49-48.
Jay Nimmo's basket to open the fourth quarter gave the Marshals a one-point lead and they went on to out-score the Comets 20-7 to finish out the win. Those 20 points came from six different players – Flatt, Nimmo, Powell and Stokes with four a piece and two points each from Riley and Wooten.
Marshall County (2-2) will head to Tennessee Friday to play in the Memphis vs. the World Shootout. They will play an 8:30 game Friday against Christian Brothers High School of Memphis.
| | | | | |
| --- | --- | --- | --- | --- |
| |   1 |   2 |   3 |  Final |
| Marshall |  16 |  37 |  48 |   68 |
| Carlisle |  14 |  34 |  49 |   56 |
SCORING
Marshall: Stokes 26, Flatt 10, Nimmo 9, A. Riley 9, Wooten 8, Powell 4, Smothers 2