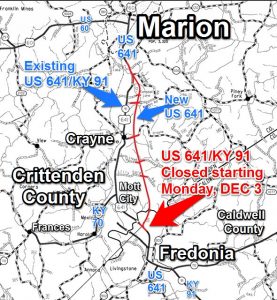 A contractor for the Kentucky Transportation Cabinet plans an extended CLOSURE of US 641/KY 91 just north of Fredonia near the Crittenden-Caldwell County Line starting Monday, December 3, 2018.
This closure of US 641/KY 91 is to allow paving of connections for New US 61 where it meets the existing roadway near the 4 mile marker in Caldwell County. This closure point is just south of the Livingston Creek Bridge which marks the Caldwell-Crittenden County Line.
A marked detour will be provided via KY 902 at Fredonia to KY 70 at Dycusburg to return to existing US 641/KY 91 at Mott City.   This detour adds about 10 miles to a trip between Fredonia and Marion.
This detour for US 641/KY 91 is expected to be in place starting at approximately 8:00 a.m., CST, Monday, and continuing through approximately 3:00 p.m., Friday, December 7th. The contractor will provide timely notice when the roadway at this site is able to reopen. Once this site reopens to traffic, there will be a stop sign for southbound traffic on the existing roadway at the new intersection.
Once the roadway is reopened, 2-lane traffic between Fredonia and Marion will be running on the New US 641 while connections to the existing roadway are completed near the 5 mile marker in Crittenden County just south of Marion.
Motorists who travel county roads that cross the New US 641 Corridor should be aware that once traffic is running on the new highway caution will be required at all crossroads along the new route.