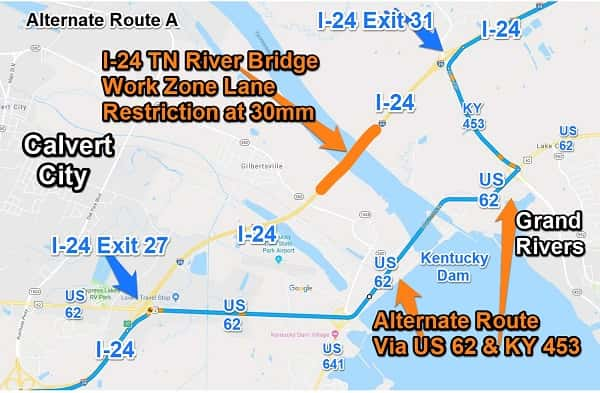 With heavy Thanksgiving Holiday traffic, we are already experiencing a traffic back for both eastbound and westbound traffic on Interstate 24 at the 30 mile marker where lane restrictions have had to remain up.
At 1:00 p.m., CST, westbound traffic was backed up about 5 miles to near the Lyon County Scales. Eastbound traffic was backed up to the Calvert City Exit 27 Overpass.
Overhead message boards have been activated at each end of the I-24 corridor in Kentucky to alert motorists to likely delays.
Additional portable message boards have also been placed along I-24.
As noted in our earlier traffic advisory (below) on this work zone, motorists should consider an alternate route as delays are likely through the Thanksgiving Holiday driving period.
Information on traffic at this location is available at goky.ky.gov and at waze.com or by using the WAZE App.