What do Vogue, Cosmopolitan and Glamour all have in common?
They all agree that corduroy is the biggest trend resurgence for fall/winter 2018 making it an absolute must have for your wardrobe this season. There are so many ways to work this fabric into your wardrobe and one of the cutest we've seen is the corduroy skirt.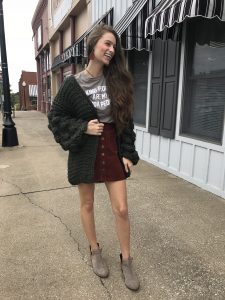 This button up corduroy skirt shown above is a great piece that can be dressed up or down. Our model, Brooke, chose to style the skirt with a graphic tee and oversized cardigan paired with leather boots.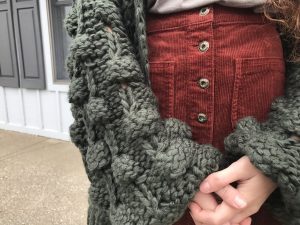 The oversized bubble chunky cardigan can easily be removed during the day and added back in as it cools during the evening. Burnished leather earrings accent this look perfectly and carry the fall look from top to bottom.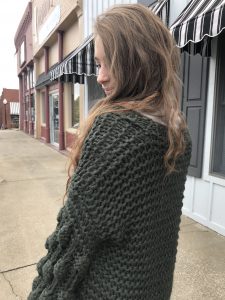 All of these pieces shown are available at Rossi Oliver on the Benton court square including the boots and earrings.