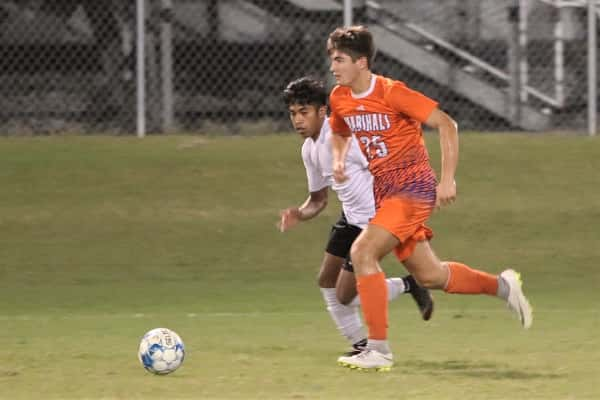 Marshall County met Mayfield in Tuesday's 2nd District semi-final after the Cardinals beat Murray 3-2 in a long battle that ended in a shootout and penalty kicks the previous night. The Marshals shut out Mayfield 6-0 to advance to the 2nd District Championship, a position they haven't been in since the 2014 season when they beat Graves County 3-0 to win the title.
Coach Donnie Heath told WCBL's Aaron Clayton in post-game comments that they talked to the team about getting professional with their attitude, approach, demeaner and their play.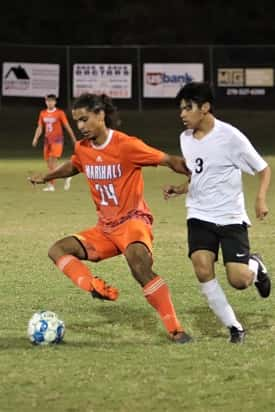 "Once we settled in the match, the second 15 to 20 minutes of the first half was pretty good", Heath said. "Then at halftime we talked to them about coming out and finishing it off, and we scored two goals in the first two to three minutes of the second half and then at that point we felt like the game was under control and we were doing what we were supposed to do."
Three first half goals were scored by Bryson Penn on an assist by Austin Stockdale, Daniel Gardner assisted by Jackson Dodd and Drake May off a corner kick by Chase Riley. The Marshals added three more in the second half, two within the first three minutes by Riley assisted by Gardner, Penn and Gardner on a penalty kick inside the box for the 6-0 win.
The Marshals dominated play with 18 shots, 11 on goal and eight corners holding Mayfield to just four shots in the game.
Heath talked about his seniors who have been through a lot over the last three years as far as post season play goes, saying they are happy to get back to where they feel like they should be.
The Marshals will play for the district title Thursday at 7:00 at Marshall County High School against the winner of tonight's Graves County-Calloway County semi-final.