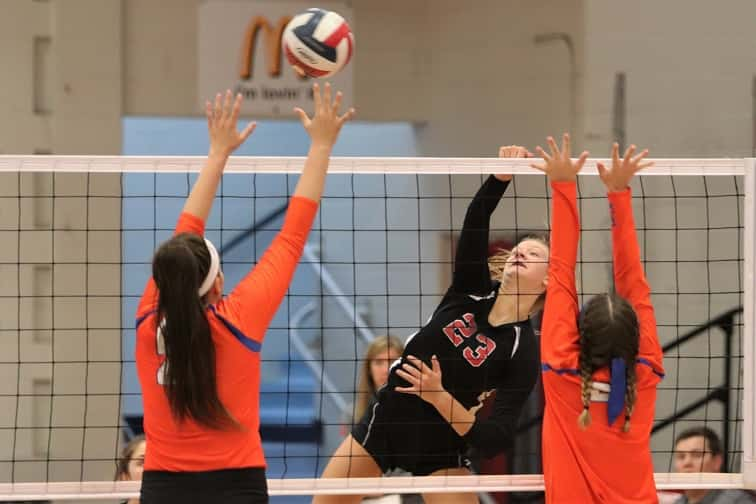 Reminiscent of their two meetings during the regular season that went the full five sets, Marshall County and Christian Fellowship met on the court Tuesday to determine the 4th District Tournament championship…and again, it went five sets with the Lady Eagles coming out on top 3-2 (CFS 25-23, MCHS 25-20, MCHS 25-23, CFS 25-20, CFS 15-6).
The first set, with ties too numerous to count and neither team stretching a lead out any more than a couple of points, went to CFS after finding some distance at 23-19. The Lady Marshals pulled back to within one point at 24-23 following a kill by Halle Langhi and nice serves from Clara Bradley before the Lady Eagles put the game away on a kill by Abigail Cima.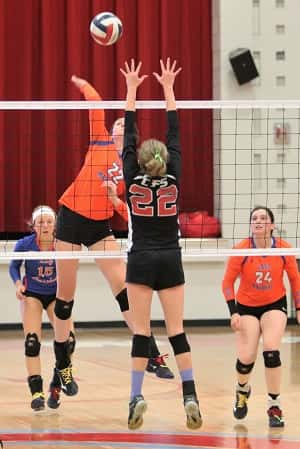 In set two, the Lady Marshals fell behind 11-5 before rallying to tied the game at 12-12 prompting a CFS time out. Marshall County continued their string of points, scoring four more to lead 16-12 and maintained the lead getting kills down the stretch from Langhi and Bradley to win the set by five points.
After trailing 6-4 in the third set, the Lady Marshals took the lead for the remainder with CFS closing to within three points at 20-17 and one point at 24-23 before the final point for the win went to the Lady Marshals to take a 2-1 lead.
Set four proved to be as close as the first three sets. Tied 5-5, the Lady Eagles began to take an edge until the Lady Marshals tied again at 10-10, going on to lead 15-11 before Cima found her rhythm and exploded for three straight kills to pull the Lady Eagles to within one point. Leading by two at 18-16,  another string of points credited to Cima on a kill, block and kill stretched the CFS lead out to four points before taking the fourth set 25-20.
With momentum clearly riding with the Lady Eagles, they cruised to a 15-6 fifth set win to repeat as 4th District champions. Both teams will advance to next week's 1st Region Tournament at Christian Fellowship.
Cima led the Lady Eagles with 22 aces with six each coming from Maggie Wagner and Emma Fletcher. CFS had 12 aces in the win led by Lexi Hovekamp with four and Wagner with three. Emma Alexander led in assists with 26 while Cima and Hovekamp led in blocks with four each.
For the Lady Marshals, Langhi led in kills with 23 with eight each from Bradley and Jessica Hicks. Bradley had 20 assists, 17 by Langhi and in digs Mckenzie Elkins had 21, Hicks 14, Bradley 13 and Langhi 11.
All District Team selections for CFS: Cima, Wagner and Alexander
All District Team selections for Marshall County: Langhi, Bradley, Elkins and Hicks.