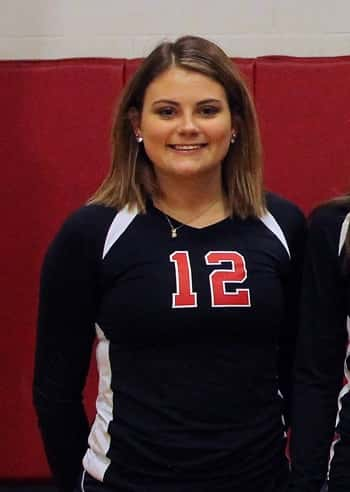 Kenzie Murdock is a senior volleyball player for the Christian Fellowship Lady Eagles and during last week's game at Calloway County, Kenzie just wasn't feeling right…but the tough competitor she is, tried to stay in the game before succumbing to feelings of nausea, dizziness, pain and difficulty breathing.
Her parents, Kyle and Mandi, took Kenzie to the Murray-Calloway County Hospital from the gymnasium, where a large mass was discovered on her chest. She was immediately transferred to Vanderbilt Children's Hospital in Nashville by ambulance where the mass was confirmed and they were told it was cancerous but needed pathology to prove it.
The Murdock's were told that Kenzie was holding fluid around her heart and lungs as well and after a biopsy was performed, the doctors declared the mass was Lymphoma but would need additional testing to determine the type.
Kenzie was transferred to St. Jude Children's Research Hospital in Memphis and she was diagnosed with T-cell Lymphoblastic Lymphoma, a rare form of aggressive non-Hodgkin's lymphoma. She will undergo intensive chemotherapy at St. Jude for the next three months to attack the cancer and is facing two and a half years of treatment.
"This is a minor setback for a major comeback, not in volleyball, but in life", Kenzie said.
Described as compassionate, spirited and loving, Kenzie is also known as a fighter and family members say she has a great attitude and is ready for this battle.
"We are so very thankful for your outpouring of love, kindness, prayers and support", said Kenzie's mom Mandi. "Thank you for the texts, calls, visits, etc. We are very appreciative. We are blessed to be part of such a loving, caring, support system. God has a plan."
In Monday's 4th District volleyball semi-final game against Calloway County, the Lady Eagles played for Kenzie. They hung a banner that read, "Fighting for more than just a win!" and both teams wore warm-up shirts with Kenzie's #12 on the sleeve and #kenziestrong across the front.
As if reflecting the battle they know lies ahead for Kenzie, the Lady Eagles battled through five very close, competitive sets to win 3-2 and advance to tonight's 4th District title game.
"Not only is Kenzie a key player on the court for our team, she is a great friend to them", CFS Head Coach Suzie Burnett said. "We all love her and are praying for a quick and complete recovery!"
If you want to follow Kenzie's journey or post a message, please go to caringbridge.org and search for Kenzie Murdock. A gofundme page has been set up to help the family with expenses and you can also send Kenzie cards to: 262 Danny Thomas Place, Memphis, TN 38105, Attn: Kenzie Murdock (patient).