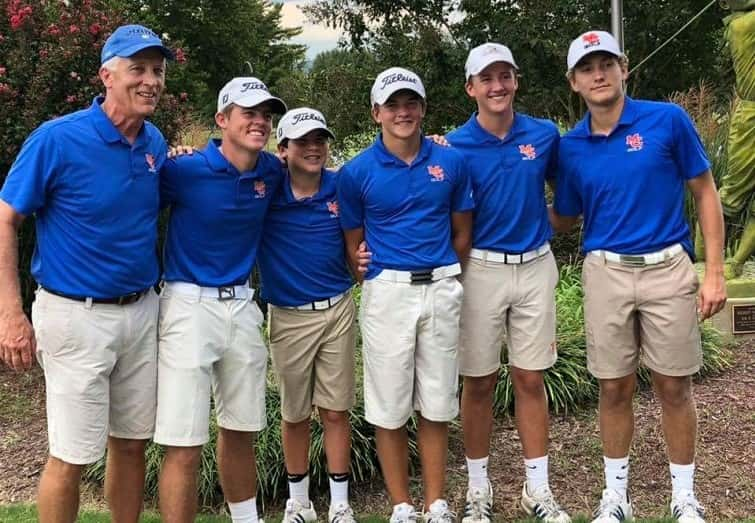 What every high school golf team wants to do…and that's play on the last day of the season which means you are in the final day of the state tournament. That's what the Marshals did and they finished 10th in the state, capping off a season that included five tournament titles and 2018 Region 1 Champions.
On day one of the KHSAA Boy's State Championship, the Marshals teed off of hole #10 and as the two days would show, the more favorable nine of the Bowling Green Country Club course. Making the turn after the back nine, the Marshals were led by Tyler Powell at 1-under with a back nine eagle on #14. Jay Nimmo was +2 after bogeys on holes 17 and 18, Camdyn McLeod +5, Nathan Clark +10 and Trey Wall +12.
On the front nine, Powell was back to even after a bogey on #3 and finished out his round with a 2-over par 74 to lead the Marshals. Nimmo struggled a bit on the front nine with a double-bogey on #5 and finished out his round with a 6-over 78. After a nice birdie on hole #1, McLeod also succumbed to the more difficult front nine and finished with a +11 score of 83. Wall and Clark tied at 88, +16 for the round.
Day two dawned early again off of hole #10 for the Marshals, paired with players from Grant County and Wayne County. After completing the back nine, Nimmo was 3-under par after four birdies and one bogey, Powell was +1 after a birdie on #18, McLeod and Wall +9 and Clark +11.
The front nine again, proving more difficult from tee to green for the Marshals, saw scores rising with Nimmo going back to even par after the first three holes, Powell and Clark added five strokes while McLeod and Wall each with just one bogey over the three holes.
Nimmo finished out the final six holes with four pars and a birdie to finish his round at 1-under 71 followed by Powell with 79 (+7), McLeod 90 (+18), Wall 91 (+19), Clark 96 (+24) and as a team the Marshals shot 331.
According to Head Coach Keith Bell, course conditions were tougher on the second day. The course played at 6,801 yards and the greens were very firm and rolling very quick.
Final results:
Team +78 (323-331=654), 10th
Nimmo +5 (78-71=149) T12th
Powell +9 (74-79=153) T26th
McLeod +29 (83-90=173) 74th
Wall +35 (88-91=175) 78th
Clark +40 (88-96=184) 81st
St. Xavier led after the first day with a blistering 3-over par team score of 291 but on day two, shot 15 over to fall to second with a two-day score of 594 (291-303). Taylor County was crowned state champion, winning by two strokes over St. Xavier with a team total of 592 (294-298). Trinity's John Marshall Butler won the individual state title shooting a 5-under 139 (70-69). South Warren's CM Mixon was runner-up at 2-under 142 (71-71).
"First, I'm so very proud of this team and what they have accomplished throughout this golf season", Bell said. "At the beginning of the season we had team goals of winning the regional tournament and returning back to the state tournament in Bowling Green and those goals were accomplished. Once we made it to the state tournament, the next goal was to be playing on day two and our team did just that. I want to thank Brent Lovett, MCHS Asst. principal (and former MCHS boys golf coach) for filling in for me during the practice round and day one due to my sister having a major surgery in Atlanta on Thursday."
Bell summarized day one saying, "Tyler had a solid round of 74, which included an eagle on the par five 14th hole and finished his first nine holes at one under par. Powell's back nine included one birdie, four pars and four bogeys. Jay got off to a solid start with seven straight pars and finished his front nine with bogeys on holes 17 and 18. On his back nine he had six pars, two bogeys and one double bogey. Of our remaining players, Camdyn came in with a 83, Nathan and Trey finished with 88s."
"I thought some of our players didn't adjust as well to the course conditions which were tough, especially on day two", Bell added. "On day two the course played at 6,801 yards, the rough was extremely tough to get out of and the greens were rolling fast."
"I was proud of Camdyn and Nathan and how they continued to grind it out even though it was no where close to their normal efforts seen throughout the year. I thought Trey Wall played well considering it was his first state tournament and even more so as an 8th grader."
"Overall, a great experience…..I know that our players and I wanted the team to play better however to be able to participate on this stage, on the second day, in the final high school tournament of the year was awesome. During the regular season we had five tournament first place finishes, the Region 1 champions and state tournament participant……a successful year!!!"
"Our future looks good…..we have one senior in Nathan Clark who'll be graduating. Nathan spent three years on the golf team and worked hard to make it as one of the top five players. Jay is a sophomore and Tyler a junior….these two players will lead us next year. Both of these players will most likely end up first or second team in the all state points. Camdyn had a really solid year and expectations will continue to grow for him. We have a really good group of young golfers that will be working hard during the summer. I'm expecting to see several players competing for the top five positions next year. The Marshall County golf program (boys and girls) is considered one of the top high school golf programs in the state and I really feel our future continues to look really really good!"